Suggested Veterinary Products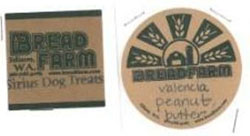 The possibility of health risks has prompted another dog treat recall, this time by Breadfarm Inc., of Bow, Wash. The company is recalling Valencia Peanut Butter, Peanut Butter-Chocolate Chip Cookies, Sirius Dog Treats and Wonder Bars purchased between January 2007 and October of 2008.
These treats have the potential to be contaminated with Salmonella, the company said in a statement released early this week. The products were made using peanuts recalled by Peanut Corporation of America (PCA), the company linked to a nationwide recall of more than 2,000 peanut butter products because of Salmonella contamination.
Salmonella bacteria can cause serious and sometimes fatal infections in pets, children, frail or elderly people, as well as others with weak immune systems. A healthy person infected with Salmonella often experiences fever, diarrhea (which may be bloody), nausea, vomiting and abdominal pain. In rare cases, infection can result in the organism getting into the bloodstream and causing more severe illnesses such as arterial infections and arthritis.
The Valencia Peanut Butter, Peanut Butter-Chocolate Chip Cookies, Sirius Dog Treats and Wonder Bars were sold in Washington State at the Bellingham, Mount Vernon, and Everett farmers markets and at the Breadfarm retail location in Bow.
All products were sold under the Breadfarm label with no additional labeling or code information on the package, except the unpackaged, single cookies.
The following products are affected by this recall:
• Valencia Peanut Butter sold in 16-ounce jars.
• Peanut Butter-Chocolate Chip Cookies sold in sealed cellophane packs of five cookies or as unpackaged single cookies.
• Sirius Dog Treats sold in sealed 7-ounce cellophane packages.
• Wonder Bars sold in sealed cellophane packages of two bars.
Breadfarm products made after October 2008 contain non-recalled peanuts from a different source and are not affected by this recall, the company said. No illnesses have been reported in connection with these products.
Consumers who purchased the affected treats are urged to return them to Breadfarm for a refund. Consumers with questions may contact the company at 1-866-372-7323.