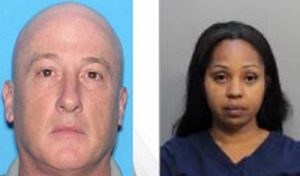 Two Florida residents are facing charges of animal cruelty and practicing veterinary medicine without a license after a neutering procedure performed at their "veterinary clinic" resulted in a dog's death.
On April 23, Omarnestor Delrio took his 12-year-old American bulldog, Royalty, to what he thought was a veterinary clinic in Hialea, Fla., but was just an apartment that occupants Jose Alvarez-Marrero, 58, and Sophia Gonzalez, 40, had set up as a makeshift veterinary clinic.
According to police reports, Delrio had brought Royalty to the pair before for veterinary treatment; however, neither Alvarez-Marrero nor Gonzalez is a licensed veterinarian.
Anesthesia was administered on a couch, the dog was moved to a folding table, and Alvarez-Marrero began the procedure. After suturing, when Royalty began to swell around the removed testicle area, Alvarez-Marrero reopened the incision and gave the dog more anesthesia after he exhibited signs of discomfort, according to reports.
Delrio returned to the apartment with Royalty twice after the procedure: two days later after complaining to Alvarez-Marrero his dog wasn't eating or drinking, and then again when additional treatment failed to work.
Delrio took Royalty to a Knowles Animal Clinic in Miami, but it was too late. Royalty died one week after his surgery, and the veterinarian ruled his death was due to an unsterile surgical procedure, according to reports.
Hialeah police and Miami-Dade Animal Services executed a search warrant at the Hialeah apartment.
Gonzalez was booked into Miami-Dade County Jail on May 23; authorities are searching for Alvarez-Marrero, who was absent from the apartment.