Suggested Veterinary Products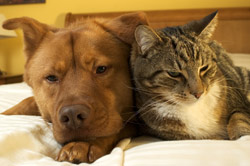 California State Sen. Dean Florez, D-Shafter, introduced new spay/neuter legislation on Feb. 24, which once again calls on pet owners to have their cats and dogs sterilized.
SB 250 requires that dogs be spayed or neutered unless their owner gets an unaltered dog license, proponents said. It would also require that roaming cats be spayed and neutered.
Judie Mancuso, founder of Social Compassion in Legislation (SCIL) and a sponsor of the similar AB 1634, which failed to pass out of the Senate in August 2008, said this new bill would reduce euthanasia rates as well as save taxpayer dollars.
Bill Hemby of PetPAC, a group that helped defeat the previous bill, released a statement against the new bill, describing it as dangerous legislation because it arrives during financially tough times for the state, which would make enforcing the bill a challenge. "Here we go again," he said.