Suggested Veterinary Products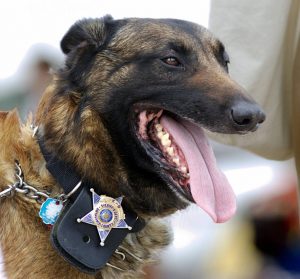 California Governor Jerry Brown signed Assembly Bill 1776 on Sept. 6, establishing a pilot program that would authorize medical technicians to provide emergency, ground-based transportation to a veterinary facility for police dogs injured in the line of duty.
This bill would authorize the County of San Bernardino to work with the Inland Counties Emergency Medical Agency to conduct a pilot project starting Jan. 1, 2019, in which they collect specified data about the results and submit a report to the Legislature by Jan. 1, 2022.
As an exception, there must be no person requiring medical attention or transportation at the scene when the request is made, and the ambulance must have a policy permitting the transportation of an injured police dog.
The canine handler must accompany the dog and remain in full control during transport. Additionally, the canine handler remains responsible for any first aid given to the injured police dog during transport.