Suggested Veterinary Products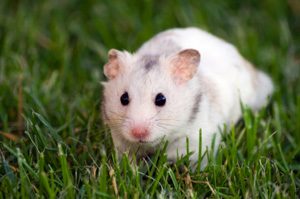 The Public Health Agency of Canada advised residents of several provinces to seek medical assistance if they had purchased "dwarf/pygmy or regular hamsters" within the past three months and are not feeling well.
The agency also asked pet stores to closely monitor their hamsters and notify their local veterinarians if they observed illness and higher than usual mortality.
Hamsters from a pet distributor in Manitoba have tested positive for Type B tularemia, a rare, usually mild but potentially fatal disease in humans, the Canadian government reported.
The distributor allegedly shipped ill hamsters to pet stores in British Columbia, Alberta, Saskatchewan, Manitoba and northwestern Ontario.
"We believe the risk to human health is low, but if people have sick hamsters and are feeling ill themselves, we want them to advise their health care provider," said Dr. David Butler-Jones, chief public health officer of Canada.
Tularemia is treatable with antibiotics and is not spread person-to-person. It is usually transmitted by contact with infected animals or their cages, the Canadian government said. Possible infection routes include being bitten or licked by an infected animal; handling or cleaning the animal, its toys, cage and feeding equipment; breathing contaminated air; and eating or drinking contaminated food or water.
Symptoms of tularemia may include ulcers on the skin or mouth, swollen glands and painful lymph glands, sudden fever, chills, headache, diarrhea, muscle aches, dry cough, progressive weakness, joint pain, sore throat and swollen and painful eyes.