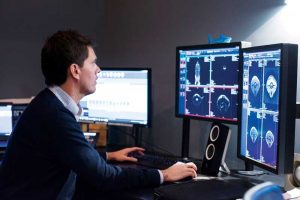 Veterinary oncology imaging has evolved greatly over the past decade, allowing for earlier detection, improved treatment, and more successful outcomes. Veterinary Practice News reached out to three prominent veterinary oncology centers around the U.S. to discuss imaging equipment, promising research, and what the future holds in this important field.
Petcure Oncology
PetCure Oncology is a group of eight veterinary cancer treatment centers located throughout the U.S. that recently treated its 2,000th patient.
"We are trying to bring the highest level of technology into the battle against cancer," said Neal Mauldin, DVM, DACVIM (oncology), DACVIM (internal medicine), DACVR (RO), chief medical officer. "We offer all kinds of radiation therapy but really focus on the advances that make it possible to deliver high doses of radiation in a much more compressed time period."
The imaging equipment they use
Volumetric-modulated arc therapy, an advanced form of intensity-modulated radiation therapy that delivers a precise 3-D dose of radiation in a continuous arc with the aid of a cone beam CT, is a primary diagnostic imaging modality at PetCure Oncology.
"A diagnostic CT or a planning CT is done at the start of therapy," Dr. Mauldin said. "The patient is placed in a specially made immobilizer and scanned in so we can reposition them with a high degree of accuracy when they are ready for treatment. We can take the CT data set and reconstruct it into a 3-D volume, which allows more precise localization of the tumor and more accurate dose delivery. On the day of treatment, the patient is placed in the immobilizer and we do a cone beam CT with them positioned on the treatment table. The linear accelerator is then able to volumetrically compare those two data sets to get the patient in the same position. The degree of precision and accuracy is really amazing compared to what we had even a few years ago."
At PetCure Oncology clinics, a CT scan is a planning requirement for all patients receiving radiation therapy, as most radiation therapy planning programs use CT data
to do the calculations, Mauldin said. Treatment facilities also have MRI for such things as brain and spinal tumors.
"One of the nice things about the image management capabilities of the planning software is it can actually create what are called fusion images in which we are able to fuse MRI and CT data sets together," he said. "Sometimes we can see things very nicely on the MRI, but we can't see it that well on CT, so this technology gives us the ability to get the best of both worlds."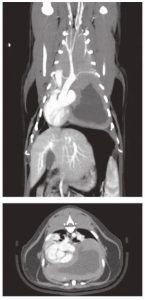 Trends they're observing
"Looking at the industry as a whole, the biggest thing I see is a lot of companies trying to improve access to their MRI and CT technology," Mauldin said. "MRI is hard for us in veterinary medicine. The machines are expensive and so is the annual upkeep. So finding ways to minimize that and have it be available is something I think a lot of people are putting effort into."
Challenging cases
Rather than discuss a specific case, Mauldin noted how challenging certain locations can be when it comes to diagnosing and treating cancer.
"There is a tumor coming off the brain stem called a trigeminal nerve sheath tumor, and those can be amazingly challenging cases," he said. "Before we got into high-resolution CT and before we started having the high magnet strength of MRI, we knew there had to be a tumor there somewhere; we just couldn't see it. We have gotten much better at being able to identify them for planning, and better at being able to reliably get a treatment dose into them."
North Carolina State University College of Veterinary Medicine
The NCSU College of Veterinary Medicine in Raleigh, N.C., receives a broad range of patients for cancer diagnosis and treatment, said Erin Keenihan, BSc, BVMS, MANZCVS, MVetMed, DECVDI, assistant professor of radiology. The majority of patients are dogs and cats, but the radiology department also has imaged everything from a binturong to tigers and hedgehogs.
The imaging equipment they use
As with most oncology imaging centers, NCSU CVM relies heavily on radiographs and ultrasound, Dr. Keenihan said.
"If we're looking for evidence of spread to the lungs, which is one of the most common places we look for the spread of cancer, we're going to use radiographs most commonly," she said. "They are readily available and relatively cheap. It's not as accurate as using CT, but that's much more expensive to do, and it's not always a viable option to get a frequent restaging CT on an animal as you would in a person."
Ultrasound is used primarily for imaging the abdomen, especially when looking for evidence of metastases, she added. Benefits include its low cost, ease of use, and the fact animals don't need to be anesthetized.
For surgical planning, CT is often the modality of choice, though it can be expensive, Kennihan said. In addition, patients must be anesthetized or at least heavily sedated to perform it.
The radiology department also boasts nuclear scintigraphy, a noninvasive imaging technique involving injecting radioactive tracers into the patient's bloodstream.
"A gamma camera detects radioactivity in hot spots where those labeled substances congregate in the body," she said. "We use it primarily for horses with lameness, but it also is used for cancer detection if we're looking for more disseminated spread through the body (predominantly bone metastases) or we're not sure where it might have metastasized."
Trends they're observing
One area of interest at the NCSU CVM is spectroscopy MRI, which looks at the molecular makeup of the lesion viewed on MRI to get a more accurate diagnosis.
"The primary use for this technique currently is for brain lesions," Keenihan said. "We often don't get a definitive diagnosis due to challenges of performing a biopsy in the brain. Having a more accurate diagnosis not only helps improve our accuracy in the future, but can also help tailor treatment options for the patient."
In addition, CVM will soon begin conducting research into immunotherapy options.
"That is certainly a hot area of research in human brain cancer at the moment," she said. "We're doing some collaborative work with Duke University, as human research is better funded. We have a population of animals with naturally occurring diseases, which offers a good model for human cancer. We hope the research will help in developing experimental and novel treatments for pets, which then can translate into human medicine, as well."
Challenging cases
Keenihan recalled a young canine patient with a nasal discharge.
"We weren't sure what was going on," she said. "The dog ended up in MRI and we found a very large, very aggressive cancer that had invaded its nasal cavity and brain. That was very unexpected in such a young patient. We think of cancer as a geriatric disease, but there are certain cancers that affect very young patients." The patient received palliative radiation therapy, but did not survive.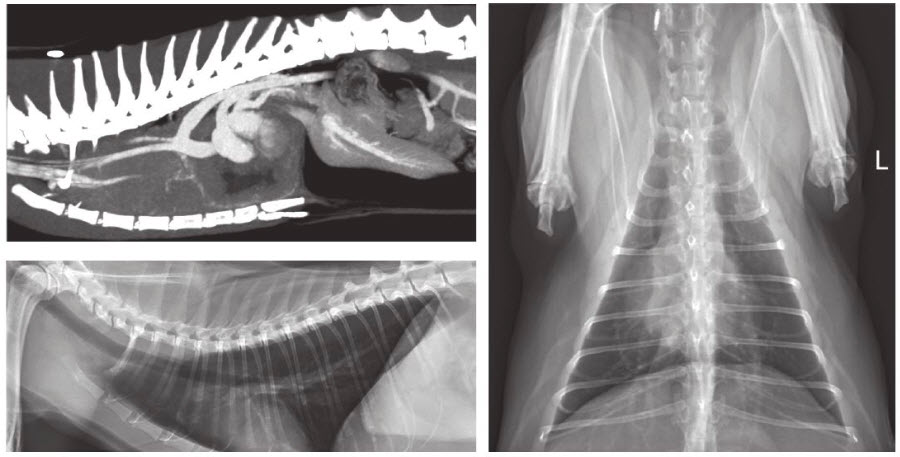 Animal Medical Center, New York
Established in 1910, the Animal Medical Center (AMC) is one of the oldest veterinary hospitals in the U.S. Today, it offers 17 specialties, including cancer treatment through its Cancer Institute.
The imaging equipment they use
"We have access to almost all the imaging modalities you would find in a human hospital," said radiologist Alexandre Le Roux, DVM, MS, DECVDI, DACVR. "As a standard of care, all the oncology patients at AMC will have serial radiographs of their thorax taken to look for metastases in the lungs, and will also regularly get an abdominal ultrasound to assess the evolution or potential spreading of their tumor."
Cross-sectional imaging, such as CT or MRI, is also available at AMC.
"These imaging modalities allow us to evaluate the internal anatomy of a patient without superimposition of the overlying structures, and they give the best anatomical detail," Dr. Le Roux said. "CT or MRI exams are performed on a daily routine on AMC oncology patients to assess the extent of their tumors, but also for surgical or radiation therapy planning. We are lucky at AMC to have surgical oncology, interventional radiology, and radiation therapy departments
with which we work closely when we are imaging patients from the Cancer Institute. The only imaging modality lacking at AMC at this point is nuclear medicine, but I am hoping we will have access to it in the near future."
Trends they're observing
"I think the next trend in oncology imaging will be the increased availability of nuclear medicine, especially PET-CT imaging, for veterinary patients," Dr. Le Roux said. "In human medicine, PET-CT is an essential element in routine management within multiple specialties, yet its major use is for oncological patients, as it provides crucial information for tumor staging and subsequent treatment/follow-up. Currently in veterinary medicine, only a few institutions have an on-site PET-CT machine dedicated to small animal patients. Several universities also have agreements with adjacent medical schools to get access to PET-CT machines off-site."
Besides oncology, PET-CT has many applications in internal medicine, such as with fevers of unknown origin cases and hypercalcemia cases, Dr. Le Roux added.
"The availability of PET-CT will tremendously improve the diagnostic work in veterinary patients," he said. "It is the current standard of care in human patients for cancer staging and identification of smaller metastatic lesions. Similarly to what happened with the development of CT and MRI, which were not readily available 20 years ago for veterinary patients and are now considered standard imaging modalities, I am pretty confident PET-CT availability will expand in veterinary medicine in the next decade or so."
Challenging cases
Le Roux recalled the case of a young cat who had been experiencing what appeared to be chronic nasal problems, as if its nose was obstructed, resulting in upper airway issues. A nasopharyngeal polyp was suspected based on the history and clinical presentation of the patient, but the CT revealed something unexpected—a large tumor in the animal's thorax, which was severely compressing the trachea, leading to upper airway clinical signs.
"We didn't suspect cancer because the patient was relatively young, and the localization of the lesion also was unexpected," Le Roux said. "The imaging made it all possible." The patient was treated with chemotherapy and has been in remission since.