Veterinarians have a new option in feline hyperthyroidism management: nutrition. Until now, they have typically relied on radioactive iodine, thyroidectomy and antithyroid drugs, options that can prove expensive and have varied side effects.
This new therapy is expected to transform the management of feline hyperthyroidism, according to Hill's Pet Nutrition Inc. of Topeka, Kan., which is launching Hill's Prescription Diet y/d Feline Thyroid Health in both dry and wet formulations this month.
Chad Dodd, DVM, a senior brand manager for Hill's, said the company has spent about 10 years studying the relationship between dietary iodine and feline hyperthyroidism. The theory was if iodine is an essential component of all thyroid hormones, then limiting dietary iodine in hyperthyroid cats would result in normalization of circulating thyroxine concentrations. Hill's studies proved the theory correct.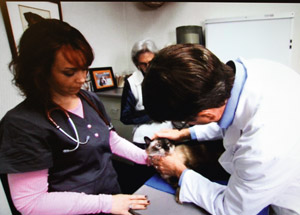 A technician and Dr. David Bruyette examine Billy while owner Judy Bernath looks on.
The next task was manufacturing a pet food that was limited in iodine content without being iodine deficient. The result: Prescription Diet y/d Feline. The therapeutic pet food has an iodine content of 0.1 ppm – 0.3 ppm, compared to 1.5 ppm – 99 ppm found in other foods.
In those 10 years, Hill's has used Prescription Diet y/d Feline as the sole therapy to successfully manage about 150 hyperthyroid cats, said S. Dru Forrester, DVM, MS, Dipl. ACVIM, director of scientific and technical communication at Hill's Pet Nutrition.
"Most have been eating the food for an average of two to three years and a few have been managed with y/d Feline for greater than five years," Dr. Forrester said. "Once a hyperthyroid cat is eating y/d Feline as the only source of nutrition, thyroid hormone concentrations decrease within three weeks and most cats are euthryoid within eight weeks. Based on our clinical studies, 100 percent of hyperthyroid cats have been controlled if they continue eating only y/d Feline."
One prime example is Billy, a 14-year-old seal point Siamese treated by David Bruyette, DVM, Dipl. ACVIM, medical director at VCA West Los Angeles Animal Hospital. Hill's invited Dr. Bruyette to use Prescription Diet y/d Feline with some of his patients before launch of the product this month. Bruyette was chosen based on his recognized expertise in small animal internal medicine and endocrinology, Dr. Dodd said.
Owner Judy Bernath took Billy to Bruyette because "he didn't seem like himself." Billy had also started to lose weight and had been vomiting intermittently, Bruyette said.
A complete physical examination was conducted and laboratory tests showed Billy's T4 concentrations had increased from 2.8 to 7.7 µg/dl in one year (normal T4 value is 1 to 4 µg/dl).
The diagnosis: feline hyperthyroidism.
Bruyette reviewed the various options—radioactive iodine, thyroidectomy and antithyroid drugs—but none seemed viable to Bernath.
Billy's Story at a Glance
Age: 14 years old
Clinical signs: intermittent vomiting, loss of weight, didn't seem like himself
Action taken: complete physical examination and laboratory tests, which revealed increased T4 concentration of 7.7 µg/dl (normal range is 1 to 4 µg/dl)
The radioactive treatment would mean being separated from her pet, a proclaimed family member, during treatment. Surgery seemed too invasive and pilling was just not an option. Billy is a large, strong-willed cat, and if he doesn't want to be pilled, he doesn't get pilled, Bernath told Bruyette.
Bruyette then told Bernath about Prescription Diet y/d Feline. Bruyette considered Billy a good candidate because Billy didn't have any other known medical conditions and he was the only cat in the household. Being the sole cat, Bernath wouldn't have to worry about Billy eating another cat's food.
Bernath decided to go the pet food route.
The next step was transitioning Billy to the new food. The transition involved mixing small but increasing amounts of the new food over seven days until the previous food was eliminated.
After eating Prescription Diet y/d Feline for three weeks, including the transition period, Billy's T4 concentration decreased from 7.7 to 3.8. As of early August, Billy had been eating y/d Feline for about 21/2 months and his T4 was 3.1.
For Bernath, knowing that she can manage Billy's hyperthyroidism simply by feeding Prescription Diet y/d Feline has made all the difference.
"I think she is pleased because [Billy] likes the food, the vomiting has stopped, he's gaining his weight back and his thyroid levels are now controlled," Bruyette said.
Billy is also happy and more playful, according to Bernath.
"When he's happy, I'm happy," she said.
"It is exciting to hear Judy's feedback about how well Billy is doing and how much he likes his new food," Dodd said. "It's even more rewarding to hear about the positive impact y/d is having on the relationship between Judy and Billy."
Although the nutritional approach overall is easy and convenient, Forrester noted that veterinarians still need to weigh the pros and cons for each individual patient and its family. For instance, some clients may find the pet food approach a challenge if there are other cats in the household where different foods may be given to different cats. Clients also have to understand that y/d Feline must be the cat's sole source of nutrition —no tuna or other treats—for the duration of the pet's lifetime.
Veterinary technicians can help ease such potential roadblocks, said Kara M. Burns, MS, MEd, LVT, a veterinary technician specialist at Hill's Pet Nutrition.
"If a therapeutic food is recommended by the veterinarian, the technician's role should be to ensure that the owner understands the recommendation, why it was made and how the food helps to manage the disease process," Burns said.
This can also boost compliance, she added.
"It is imperative to the cat's well-being and management of hyperthyroidism that the cat eat only the y/d food," Burns said. "Compliance is crucial in the management of hyperthyroidism and the veterinary technician must continue to follow up with the client to ensure proper transition and that y/d Feline is the sole source of food."
Moving forward, Bruyette said he plans to use the new food as a first line of treatment as long as the patient doesn't have a pre-existing disease. For example, he said, he probably wouldn't switch a cat with diabetes or kidney disease from one therapeutic pet food to another.
"We'd see if we could manage the cat with food alone and resort to medications or radioactive iodine only if food is not an option or if for some reason the diet failed to control the disease," he said.
Forrester said it's an exciting time for her as a veterinarian, not just as a Hill's employee, to see this product come to fruition.
"In all of the things that I have worked with in my 26 years of being a veterinarian, this is the most exciting project," she said. "It has the potential to completely change how we manage a condition that is so common in cats."
This Education Series article was underwritten by Hill's Pet Nutrition of Topeka, Kan.