Suggested Veterinary Products
In late 2007, just as the Great Recession began to roll across the country, Mona Rosenberg, DVM, Dipl. ACVIM (Oncology), started seeing a difference in business at her Veterinary Cancer Group in Southern California, which comprises four clinics.
Fewer people were coming through the door. And of those who did, fewer were opting to follow standard of care. Instead, more were choosing minimalist, less-expensive treatments.
To Dr. Rosenberg, who founded her clinic as a one-person shop in 1992 and grew it into what may be the largest veterinary oncology practice in the U.S., this posed two major challenges: how to keep the business healthy and how to keep giving cancer-stricken animals and their owners the care they sought and deserved.
A New Approach
The answer, she soon realized, was to operate the clinics as she always had—just a little more creatively.
For clients limited by money but wanting the best care for their pets, she and her staff suggested new ideas. Was there a clinical trial where they could get treatment essentially for free? Was there an outside financing plan to explore? Could they devise a less-expensive treatment plan that could deliver results similar to costlier procedures?
"It's all about having options," Rosenberg, 52, says from Los Angeles, where her practice includes nine doctors staffing two comprehensive cancer clinics (Los Angeles and Tustin), plus satellite clinics in San Diego and Woodland Hills.
"Not everybody believes in treating a pet for cancer. That's a choice that we respect. For those clients, we talk about how to keep that pet comfortable. … But for those who want to do more, we want to give them the opportunity to do everything they can for their animals, within their means."
That is why Rosenberg chose to specialize in oncology in the first place—the possibility of giving animals a chance to beat cancer and enjoy a longer, fuller life, and to work with the families who loved those animals.
"I found early on that I really liked my clients, because people who are willing to treat their pets for cancer seem to have similar values to those that I grew up with," Rosenberg says.
When she entered veterinary school in 1983 at the University of California, Davis, Rosenberg already planned to be a specialist. Maybe a surgeon, but she didn't much like blood. Perhaps a radiologist, but she was a social person, not especially suited to sitting in a dark room reading radiographs all day.
Then, as she started her internship and residency at the Animal Medical Center in New York, her second rotation was oncology. She was hooked immediately. By 1992, she had become board-certified in oncology and, after working briefly at another practice, decided to open her own.
With little money, she started small, renting space in a surgeon's office, and sharing its receptionist and a vet tech. Everything else, she did herself—from paying bills to administering chemo.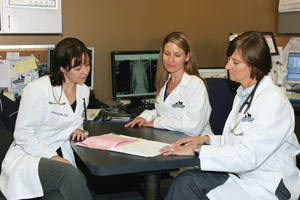 Doctors discuss their patients' protocols for additional insight.
Today, her clinics are far different from that first office.
They have all the latest high-tech bells and whistles—a 6 MeV linear accelerator, for instance, providing advanced electron radiation—and frequently participate in clinical trials, giving clients access to new and emerging treatments. They are modeled after human oncology centers.
Shortly before opening her first practice, Rosenberg's father had cancer. She noted that the oncology centers where he was treated were totally separate from the big, busy hospitals where they were housed. They had a separate entrance and staff, and were designed to be especially supportive to patients and their families. She decided her veterinary oncology clinic should operate the same way.
As the practice grew, Rosenberg made other critical decisions. When she had trouble recruiting enough qualified oncologists, she decided to train her own. In 2003, she started a residency program, which will turn out its sixth graduate in July.
The residency program grew out of her practice's group mentality. Every morning, all the doctors in the practice review the day's caseload via teleconference.
"If I'm seeing a dog with a mast cell tumor, I will present my plan, and the other doctors can either agree with my plan or poke holes in it," Rosenberg says.
Impressive Results
Client Micki Scherer says that combination of support and expertise led her to choose Rosenberg's practice to treat her golden retriever O'Brien for insulinoma—even though she had to move cross-country to do it.
O'Brien needed chemo after surgery to remove a cancerous tumor. Every session would last a day, but the hospital near her New York home wouldn't let her stay with the dog during treatment. So Scherer, a former state judge, pushed up her retirement date slightly and moved to Los Angeles to be near her daughter, where she could put O'Brien under Rosenberg's care.
"Mona and her staff would let me sit with him all day; he was never alone when the chemo was being administered, and that was important to me," Scherer says. Four years later, O'Brien is 9 and still enjoys a great life, even indulging in his beloved swims.
"We've always said we will do whatever it takes, as long as he has a good quality of life," Scherer says. "We've had some pretty bad prognoses, but Mona has always been very honest about what can be expected. She always put it in the context of what the alternatives are."
Giving clients plenty of information has always been important, Rosenberg says, but it's particularly crucial now, even as the economy recovers and clients seem to be growing more confident about spending money on specialized care.
"The model of just a single specialty is more challenging in these economic times," she says. "We don't have the other specialties to balance out things if people decide they do not have the means to put their pets through chemo.
"That's where education comes in. We need to make sure clients know there are some less-expensive options. My goal is always to improve that animal's quality of life, for as long as we can."