Suggested Veterinary Products
A veterinary anatomy class will be in session starting March 14 when dozens of animals preserved through the process of Plastination go on display at the Museum of Science and Industry in Chicago.
More than 100 specimens—from goats and giraffes to octopuses to ostriches—will be shown in the same way human bodies and parts are displayed worldwide as part of the now-famous "Body Worlds" collections.
The U.S. premier of "Animal Inside Out" is scheduled to run through Sept. 2.
"Usually you see specimens as skeletonsor taxidermies," said Anne Rashford, the museum's director of temporary exhibits. "At 'Animal Inside Out,' museum guests will see animals in a whole new way."
Plastination removes the fluids from a body and replaces them with plastics that harden, allowing details to be examined up close.
Visitors will see a shark's dense network of blood vessels, the inside of a rabbit's brain, the running and leaping muscles of a reindeer and the muscles of a bull's heart.
Plastination's inventor, Gunther von Hagens, said the exhibit is designed to develop an appreciation for animals.
"It is critical that we increase our understanding of animals in the wild, if not for their preservation, for our own," he said.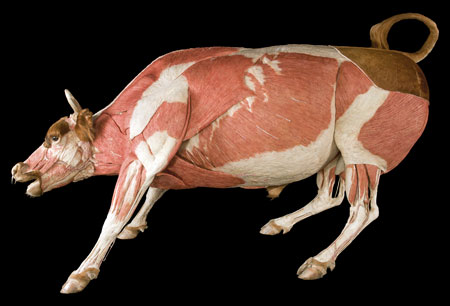 A plasticized bull is shown from head to tail in "Animal Inside Out."
Animal anatomy will be shown better than in any textbook, said Angelina Whalley, the exhibition's curator.
"It's fascinating to see the anatomical similarities between different animal groups, including humans," she said. "Animals, too, are skin, flesh and bone, like humans."