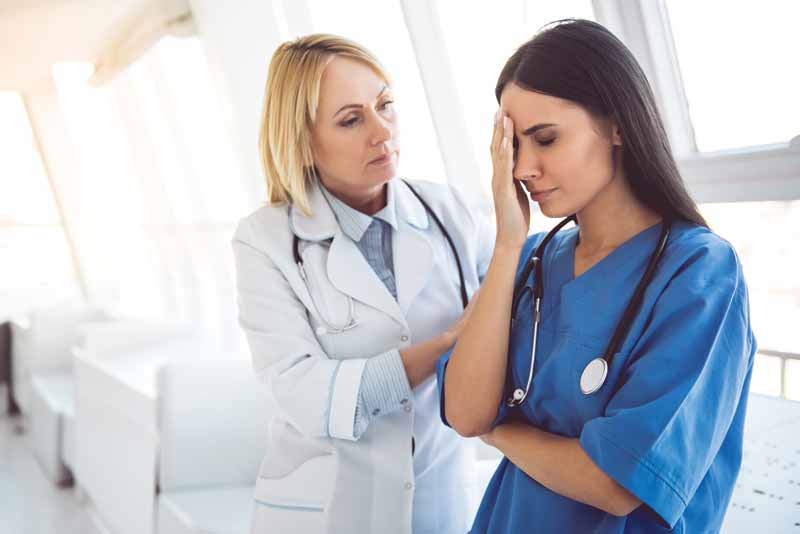 Instead of striving for perfection, aim to do your best in each moment. This concept has loomed large in my mind for years. It all started with a line from a poem written by my father: "Only through illusion do we see man's interpretation of perfection." His advice to look beyond the illusion and live an inspired life made an impression.
It's better than OK to 
be imperfect
This was confirmed a few years ago when I attended a veterinary wellness summit supported by the Association of American Veterinary Medical Colleges and Colorado State University.
One keynote speaker, a veterinarian and practicing psychotherapist, focused on the magnitude of mental health issues in veterinary medicine. She described the idea of the "good-enough mother." I was overwhelmed with a sense of connection as her words rang true in my heart, even though I only recognized a fourth of her psychoanalytic terminology.
During her talk, she said that it is healthy for children to experience imperfect parents. (Thank goodness.) I am not the poster child for perfect parenting, yet my children (ages 26 and 29) are well-adjusted members in their community and are in healthy relationships.
This perception can translate easily to veterinary teams, where leaders, managers, and team members make mistakes. It's healthy to recognize we are humans and, therefore, imperfect.
As the weekend unfolded at the wellness summit, attendees embraced ideas in gratitude, being a perfectionist, and in letting go. I was intrigued by it all, and I have begun diving deeper into the realm of living well, including the ideas that giving 110 percent is impossible and that perfection is only an illusion.
In one conversation I had with a veterinarian at the summit, he explained that he burned through veterinary team members like they were going out of style, mainly due to placing his unhealthy attitude of perfectionism onto them. Once he experienced a paradigm shift in letting go of this unrealistic expectation, he began forming stronger, more satisfying working relationships with his team, resulting in better retention rates.
For the time being, we know enough
Another realization I made about the illusion was while attending a leadership program in Gunnison, Colo. One of the facilitators presented the concept of the Japanese term "torieazu," basically meaning that there will be times when not enough information is available to make decisions. But instead of waiting for the perfect set of circumstances, which may never appear, it's best to make a move and to take action.
Ready, fire, aim
Another wise entrepreneur and coach explained the concept of "ready, fire, aim," meaning there are times when there is adequate data to pull the trigger (take action) and then adjust afterward. Think about how many times this is the approach in determining a diagnosis and treatment plan. If we are waiting for the perfect "aim," the "fire" may never arrive.
I vividly recall a respected veterinarian encouraging newly graduated veterinarians to just make a decision, for the sake of the patient and the client. No action due to wanting the perfect answer can be more detrimental than a perceived wrong action.
The illusion of perfection does harm
Veterinarians and team members may be hung up on the unrealistic pretense of having to be perfect (perfect family, perfect job, perfect life, etc.).
"Perfectionism is not the same thing as striving to be your best," wrote Dr. Brene Brown in her book, The Gifts of Imperfection. "Perfectionism is the belief that if we live perfect, look perfect, and act perfect, we can minimize or avoid the pain of blame, judgment, and shame. It's a shield. It's a 20-ton shield that we lug around thinking it will protect us when, in fact, it's the thing that's really preventing us from flight."
Perfectionists tend to be enormously concerned about making mistakes. They set unrealistically demanding goals and see failure to achieve them as unacceptable and a sign of personal worthlessness. As a result, perfectionists are driven by their fear of failure. A team constantly in this state of fear has little chance of reaching greatness. A team that is encouraged to do their very best, in each moment, has hope.
There are pros and cons in striving for perfection. The positives include attention to detail, superior organization, and a polished product. The negatives of working with a perfectionist include losing sight of the objective, moving painstakingly slow, having unrealistic goals, and carrying the overarching fear of failure or consequences of making a mistake.
Rather than striving for excellence in all things, foster a working environment where perfection is not the driving mentality. This will cultivate a far better culture. It is realistic to strive to do our very best under all circumstances (the expectation of employment). If you work in a veterinary practice long enough, there will be wonderfully rewarding experiences as well as some mistakes.
Previously in Veterinary Practice News, Dr. Patty Khuly wrote, "The irony of veterinary science is that it's deeply human. So much so that it perfectly mirrors the many deficiencies, failings, and flaws that characterize our hominid experience. It is, by its very nature, shockingly imperfect."
Not surprisingly, her clinic has instituted a policy of zero consequences for employees who quickly admit to a medication error. That is awesome, because we know time can be of the essence when a team member makes a mistake, regardless of the circumstances! An environment where employees can freely admit a mistake is healthier for finding solutions and rectifying situations.
Every day, within the walls of the veterinary hospital, there are calculations, conversations, and projects that must be completed with a high standard of excellence. And every day there are opportunities for mishaps. But fear of failure, and of being less than perfect, must not paralyze and overshadow a team.
For a veterinary team to reach its highest potential and achieve its goals, there will be times when action should be taken and adjustments made. To wait for the "perfect circumstance" will be detrimental in achieving success. Allowing team members to focus on doing their best, rather than concentrating on fear of failure, also will allow for greater potential in attaining objectives.
Simply, the illusion of perfection does not serve a team.
Sources
"Three Dimensional Imperfection," Bernie Rose. bit.ly/2CAb4LD
"It's Veterinary Practice, Not Perfection," Marie Holowaychuk, DVM, DACVECC. bit.ly/2CbCLi4
"The Curse of Perfectionism," Psychology Today, Adrian Furnham, Ph.D. bit.ly/1VfXjr0
The Gift of the Good Enough Mother, Carla Naumburg, Ph.D. bit.ly/2CAHFky
When Veterinarians Make Mistakes, Patty Khuly, VMD, MBA. bit.ly/2HBgRUR
Rebecca Rose, CVT, founder and president of CATALYST Veterinary Practice Consultants, has 30 years of veterinary industry experience as a veterinary practice management consultant, a practice manager at two AAHA-accredited animal hospitals, and an award-winning veterinary technician. She is a NAVTA past president (2015-2017). Contact her at getCATALYST@CATALYSTVetPC.com or visit CATALYSTVetPC.com.