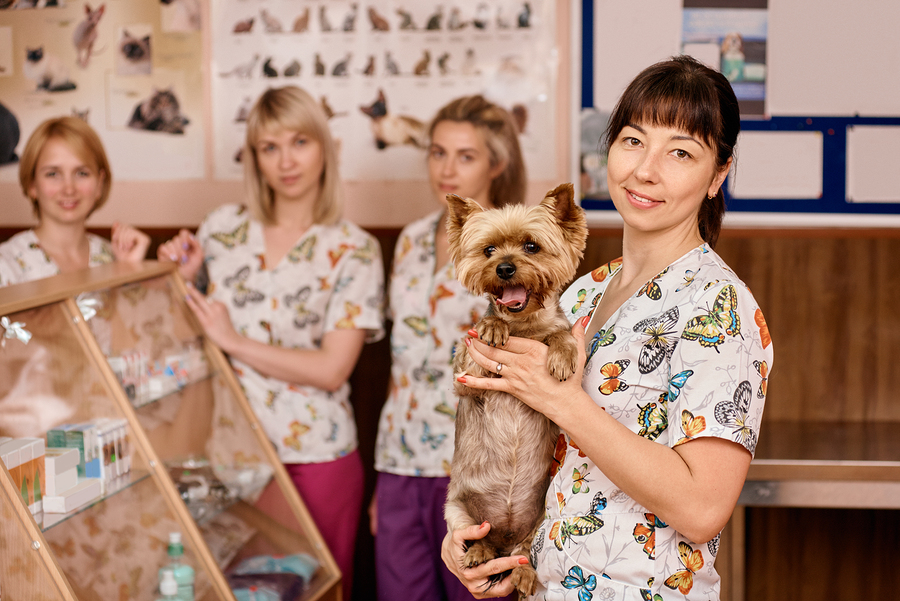 You and your team members may feel like hamsters on a wheel, constantly spinning, with no vision beyond the daily routine. I imagine you are satisfied with providing daily care to patients, because that's what we do as veterinary professionals. But wouldn't it feel better to work toward a common purpose or goal, to include providing extraordinary patient care?
"There are a lot of leaders out there that take the employees, blindfold them, spin them around 10 times, and then want them to go hit the tail on the donkey and they can't do it," wrote Josh Spiro for Inc.com in "How to Get Your Employees Excited About Your Business Vision." "Workers need to have a sense of how their roles interweave with the larger goals of the company in order to take pride in the importance of their work and to do the best possible job on every project."
Get the TEAM together
While the acronym TEAM (Together Everyone Achieves More) may seem cliché, to me, it's a timeless classic. Together Everyone Achieves More, especially when there is a defined purpose and an established, common goal to reach.
"What is the hospital's mission?" I often ask team members in a group setting. More often than not, I find that no one can recite it. This tells me a lot about the clinic's leadership, management, and veterinary team. Without a declared, known, and shared purpose, a team is like the hamster on a wheel, spinning its wheel day in and day out, without direction.
Does that sound like your team? No purpose, just the daily grind, lacking in rewards or satisfaction? With little vision or thought toward the future?
Let's describe a different scenario. I asked another veterinary team, "What are the values and mission of the hospital?" In contrast to the first group, these team members could recite it, which told me leadership had shared their vision of the future and the goals they wish everyone to achieve. It told me the team is included in conversations and they see a bigger purpose to their daily tasks and duties.
Most often, mission statements cannot be recited simply because:

They don't exist or are no longer relevant;

They're far too long and full of fluff; and

They're not regarded as worth the time by leadership.
When the National Association of Veterinary Technicians in America (NAVTA) evaluated its mission statement in 2015, it was more than four sentences long. The board was unable to recite it. Upon reworking its daily purpose and focus, NAVTA's mission statement now is just six words: "to advance veterinary technology and veterinary nursing." Short. Simple. Memorable.
How long is your hospital's mission statement? How many of your team members know it, let alone live it? When was the last time you and your team evaluated its daily mission?
When a team has shared goals, shared knowledge, and mutual respect, there will be more satisfaction and efficiency, creating a TEAM, according to the book, High Performance Healthcare.
Examples of team purpose:

Treat each patient and pet parent with dignity

Work alongside team members with integrity

Be an integral and respected part of the local community
Examples of team goals include:

Receive favorable ratings on client surveys

Decrease team turnover to reflect other industry averages (15 percent)

Engage in three community events annually, as a team

Debrief traumatic team incidences with 24 hours
There are three ways to evaluate (or design) your hospital's values, vision, and mission statements.

Through dictatorship, where the owner(s) hide in the back room, huddled in a secretive manner, exclusively defining their team's destiny in veterinary medicine and client service.

Upper management hides in a back room, exclusively crafting their team's destiny.

All team members collaborate in defining personal values, professional vision, and daily mission. Common values, shared professional vision, and daily mission are created in an inclusive manner.
Obviously, No. 3 has the highest potential for success. Involving the team in collectively identifying the common goals and purpose directly impacts their buy-in of the overall statements. You may feel like working through this is an overwhelming and daunting task. Granted, this method takes more time than either of the first two. However, the lasting impact is worth the initial investment.
Here's a few suggestions on how you can maneuver through the process:

Prior to an upcoming staff meeting, ask your team members how they feel about the current mission statement. Leave it open-ended, and see what answers you get. A great way to gather this data is through an anonymous, electronic survey (examples of which include SurveyMonkey or Slack, which is an interoffice communication system).

Ask team members to consider their own personal values, visions, and missions. (In my experience, few team members have been asked or have considered such things). Have they defined their belief system while working as a veterinary professional? Written out a vision for their career? Envisioned additional goals as they provide daily medical care and veterinary services?

Provide tools to assist people in developing their statements. One example is a personal values/vision/mission worksheet I've created 
(bit.ly/2eZ5D2w). Another option is to find other examples with a Google search.

Begin discussing as a team what everyone has learned through completing these exercises (outlining their thought about the current hospital statements and their personal statements). This is most beneficial when there's a safe space to talk and the team has at least two uninterrupted hours to share. This can be an enlightening, motivating, and powerful exercise.
Helping your team know and understand their purpose supports their need to be a part of a bigger picture and provides direction and unity. Identifying shared values helps to keep everyone aligned. Establishing goals and vision gives them hope for the future.
Rebecca Rose, CVT, founder and president of CATALYST Veterinary Practice Consultants, has 30 years of veterinary industry experience as a veterinary practice management consultant, a practice manager at two AAHA-accredited animal hospitals, and an award-winning veterinary technician. She is the immediate past president of NAVTA (2017). Rose can be contacted via e-mail at getCATALYST@CATALYSTVetPC.com or visit her website at CATALYSTVetPC.com.