Suggested Veterinary Products
Is your veterinary practice ready to educate clients about including their pet in a family vacation? They'll appreciate your help with tips for planning ahead to get the most from the experience.
Many of your clients reduce the number of trips they take because they worry about boarding their pet too often. That's true even when an outstanding boarding facility is available.
Of course, the quality and attitude of lodging businesses vary a lot. Your practice can become a hero by guiding them through steps they can take for locating places where their pet will be treated with love and respect.
Don't miss this opportunity to make clients know, like and trust your practice even more.
How to Help Your Clients Plan Ahead
Preparing to take your pet on vacation is not an overwhelming task. But there are several smart planning moves that can easily be overlooked. Here are a few things you can remind clients to do.
ID your dog. That means microchipping and ID tag on a collar.
Health status. Carry a written record of current examination, vaccinations and parasite preventatives. A list of health issues and medications is good to have, too.
Diet. Take plenty of the food your pet eats when at home. A change in diet often brings on digestive problems, which no one wants to deal with on vacation.
Training. Your family, your pet, and everyone you encounter on vacation will benefit immeasurably from the good behavior of your well-trained dog.
Do some research. Start with a Google search of pet-friendly lodging in the area you plan to visit. Then, check out websites and take the time to interview management at the hotel, B&B, or resort.

Clients might want to consider a visit to bringfido.com. It's an interactive site where they can enter a location and find information about pet-friendly lodging, restaurants and more.


Learn characteristics of "pet-welcoming" destinations. They will have clear and thorough information on their website. A pet-welcoming package will be included. Someone on staff will be a "pet person." Healthy organic treats, a clean water bowl, a soft matt and other amenities will be waiting for your canine family member.
Expect to pay a surcharge for extra cleaning. That's a good thing because it lets you know your pet won't be exposed to remnants from previous guests.
A Shining Example of a "Pet-Welcoming" Resort
During a recent stay at The King and Prince Beach and Golf Resort on St. Simons Island, Georgia, I interviewed three of their property managers. I came away impressed by how they care for pets and pet parents.
My conversations with them left no doubt that The King and Prince is a pet-welcoming resort. They are enthusiastic about hosting people and pets.
The famous resort has a long history of being the only one on the island with beachfront property. It's well known for being family-friendly and attracts many multigenerational guests. Now "family friendly" has been authentically extended to include canine family members.
Not coincidentally, the executive director of housekeeping is a genuine animal lover with a keen awareness of the human-animal bond.
Visit their website for details about pet accommodations.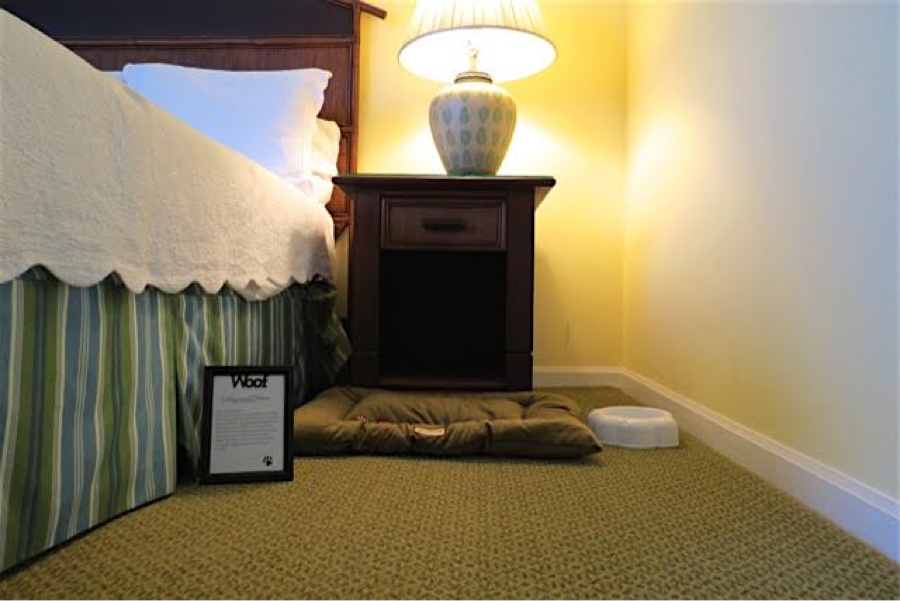 Steve Pearson, DVM, courtesy The King and Prince Beach and Golf Resort
Dog's eye view of cozy matt, personal water bowl, and healthy organic treats welcoming each canine guest.
Pet Parent Responsibilities to Remember While Lodging With a Pet
Here's what to tell your clients about their responsibilities while traveling with their pet:
Be knowledgeable about local ordinances. Check the local ordinances ahead of time because not all beaches, parks, museums and restaurants allow pets.
Stay clean. Make sure paw prints are the only thing left behind by your dog. In other words always keep a plastic bag handy to remove fecal waste. Leaving it can cause some beaches to be closed for 24 hours or more.
Locate local veterinary hospitals. Make a note of phone numbers and addresses of local vets and emergency hospitals near your destination in case the need arises.
Be considerate. Treat your pet for any communicable conditions like fleas, ticks and ear mites for example. Just follow "the golden rule" and do for others what you'd expect them to do for you.
Travel crate. Keeping your dog in an appropriate and familiar crate if you're out when your housekeeper comes in for the day is helpful to them and your dog.
Prevent problems. Keep the exercise reasonable. Your dog is susceptible to sunburn, soreness from too much exercise, and even heatstroke in some environments. Provide shade, rest times and plenty of fresh water while out playing on your summer vacation. (Be sure to let clients know sunscreen is available from your practice.)
Keep your pet involved. A boarding facility or pet sitter is a better alternative if you can't spend significant time with your pet while on vacation. You can't make memories if your dog spends the whole time alone in an unfamiliar place.
Be a "Hero" for Traveling Pet Parents
With more and more paraprofessional businesses becoming involved in pet care, veterinary practices should seize every opportunity to remain the authority in the minds of the pet parent community. Guidance that leads to happy vacation memories with the family dog can be a step in the right direction.
Here are some ways to do that:
Use social media to post pictures of your clients and patients enjoying vacations together.
Post a blog on your website about pet-friendly destinations.
Encourage clients to consider vacationing with their pets as a way to enrich the human-animal bond.
Offer a printed handout or brochure outlining how clients can experience a memorable vacation with their pet.
Do you know a pet-friendly destination or have additional thoughts on this subject? Share your thoughts in the "comments" area.