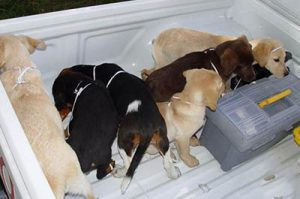 Andres Lopez Elorza, the Venezuelan veterinarian who eluded authorities for 10 years and was arrested in 2015 for allegedly attempting to smuggle heroin from Colombia into the U.S. by "sewing" the drugs into puppies, was been extradited to New York from Spain.
Elorza, 38, had worked at a clinic in Medellin, Colombia, where in 2005, authorities found 6.6 pounds of heroin implanted into six Labrador and Rottweiler puppies. The animals were rescued, but three died from infections from the implant surgery.
In 2013, he was found in Spain and arrested, but was released due to complications of the extradition process and re-arrested by Spanish police in 2015 in the town of Santa Comba in La Coruna.
Update: Elorza, part of a larger drug smuggling operation in Columbia, appeared in Brooklyn federal court last week. He pleaded not guilty and was ordered held without bail.