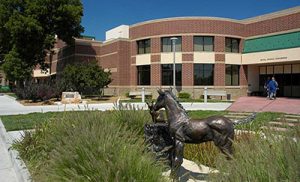 The communications program at the Colorado State University College of Veterinary Medicine and Biomedical Sciences (CVMBS) has been recognized with the Association of American Veterinary Medical Colleges' (AAVMC) 2018 Communications Excellence Award, with association judges praising the school for a "portfolio of fresh and engaging communication products and content" designed to facilitate student and community engagement.
"Communications excellence is fundamental to institutional advancement," said Andrew T. Maccabe, DVM, MPH, JD, AAVMC CEO. "We congratulate our colleagues at Colorado State University for earning this distinction, and appreciate the role their work is playing in advancing the overall interests of academic veterinary medicine."
Spearheaded by director of communications Kristen Browning-Blas, CVMBS's strengthened efforts include a recently redesigned website, which features a continuously updated online news room that has garnered millions of page views. A story exploring cross-species viral transmission reached 325 million readers and viewers, while another on Lyme disease research earned an estimated readership of 407 million and elicited global coverage through 300 mainstream media outlets.
The college also increased its social media programming, which helped grow the veterinary teaching hospital's social media audience by 132 percent year-over-year. Through social media engagement, CVMBS helped introduce girls to opportunities in veterinary medicine through the Denver Museum of Nature and Science's Girls and Science program and its lead sponsorship of the City of Fort Collins' annual Pooch Plunge program attracted 1,250 participants in addition to media coverage.
"Kristen has refined our communications goals to correspond with strategic priorities, fostered supportive relationships with central and college units, and maintained ongoing projects upholding the excellent communications standards established by the college," said Mark D. Stetter, DVM, CVMBS dean. "This college dedicates resources and support to communications, and it pays off in publicity, recruiting, research, legislative efforts, international collaborations, and overall advancement of the field of veterinary medicine and education."
The award, which includes a $1,000 honorarium, will be formally presented during the annual meeting of the Association of Veterinary Advancement Professionals in July.