Suggested Veterinary Products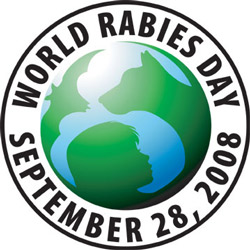 World Rabies Day, to be observed Sept. 28, is building momentum since it was initiated last year by United Kingdom charity Alliance for Rabies Control and the U.S. Centers for Disease Control and Prevention.
With the aid of 74 countries, the global initiative has helped educate more than 54.3 million people about animal and human rabies prevention. That number should increase this year, said Peter Costa, global communications coordinator for the World Rabies Day Campaign.
At press time, events had been planned in at least 30 countries, but the number was expected to increase as the observance grew closer. To date, the campaign has received inquiries from 180 countries, nearly doubling the inquiries from last year, Costa said.
"Not only is this a strong indicator of the need for this unifying campaign, it shows the potential for us to spread our message into parts of the world where rabies education is most needed," he said.
Rabies claims the lives of about 55,000 people a year around the world, and one person dies from rabies every 10 minutes, a fact that has spurred so many companies, universities and nonprofits to climb on board.
Rabies at a Glance
55,000 people around the world die from rabies per year, mostly in Africa and Asia

About 60 percent to 70 percent are children ages 5-15.

100 children die of rabies every day.

One person dies of rabies every 10 minutes.

7,000 animal rabies cases were reported in the United States in 2007.

On average, one to three human rabies cases are reported per year in the United States.

74 countries participated in last year's World Rabies Day.

World Rabies Day reached 54.3 million people last year.

In Mexico, just 5 years of a dog vaccination campaign reduced human rabies deaths from 60 per year to less than 20.
Source: Alliance for Rabies Control
For example, Bayer Animal Health of Shawnee, Kan., is partnering with Kansas State University College of Veterinary Medicine through a sponsorship of veterinary student events.
"We firmly believe that human rabies is completely preventable through proper animal stewardship," said Bob Walker, director, Communications and Public Policy at Bayer Animal Health. "Education regarding responsible vaccination to prevent rabies is to the benefit of both humans and animals.
"As a global animal health company, Bayer has a strong commitment to education and to the health and well being of animals. Our participation in World Rabies Day is just one example of that ongoing commitment."
Merial of Duluth, Ga., is sponsoring a rabies symposium at Tuskegee University in Alabama, where U.S. and international speakers will offer both national and global perspectives of this public health threat. The company will also sponsor symposiums in Russia and various educational events in Pakistan.
Being a global company that has made a commitment to animal health, World Rabies Day is a perfect outreach effort for Merial, said Bob Menardi, DVM, veterinary spokesperson for the company.
"[Rabies] is an important disease," Dr. Menardi said. "The awareness of it is critical to keeping it managed and that's where our focus is, to make sure veterinarians are educated so they can in turn educate the public."
Rabies Day Partners
Alliance for Rabies Control

American Animal Hospital Assn.

American Assn. of Feline Practitioners

American Veterinary Medical Assn.

Association of American Veterinary Medical Colleges

British Veterinary Assn.

Canadian Veterinary Medical Assn.

Centers for Disease Control and Prevention

Federation of Veterinarians of Europe

Kansas State University

National Assn. of State Public Health Veterinarians

U.S. Army Veterinary Corps

World Organization for Animal Health and World Veterinary Assn.
Intervet/Schering-Plough Animal Health of Millsboro, Del., is also a sponsor of World Rabies Day. To raise awareness of its commitment to rabies eradication, the company will host fundraising events featuring African food at a number of its U.S. locations in September.
On a larger scale, Intervet/Schering-Plough Animal Health is once again supporting the Afya Serengeti project by donating free rabies vaccines. The Swahili name is translated as Health for the Serengeti,.
Sarah Cleaveland, Ph.D., from the Center of Tropical Medicine at the University of Edinburgh, United Kingdom, started the program in 1997 to eradicate rabies in the Serengeti. It began as a research project, but evolved into a rabies control program that works with local people in the Serengeti to ensure vaccination of domestic dogs.
A vaccination zone has been set up around the Serengeti National Park with regular clinics where dog owners can bring their pets to be registered, vaccinated and marked with a plastic collar to show they have received the vaccine.
Before the program, there were 60 rabies cases per 1,000 households with 84.2 percent being traced to domestic dogs. Now that the campaign has been embraced, the size and duration of the outbreaks have been reduced and human rabies cases have decreased.
The number of households reporting animal rabies cases is down from 27 percent in 2003 to only 2 percent in 2006. Bite injuries from rabid dogs have also declined from 10 percent of households reporting bite injuries in 2003 to 0.6 percent in 2006.
In addition, the control of rabies has led to the resurgence of the African wild dog, which was wiped out after a rabies outbreak in 1990. It was thought to have originated in the village dog population surrounding the park.
When a U.S. veterinarian vaccinates a pet with a Continuum canine or feline vaccine between now and Dec. 31, Intervet/Schering-Plough Animal Health will in turn donate a dose of rabies vaccine to the project. Up to 150,000 doses of vaccines will be donated. Worldwide, the company will provide up to 250,000 doses of its rabies vaccine for the project.
Intervet/Schering-Plough Animal Health has been donating vaccines to the project since 2004, amounting to about 600,000 vaccines.
he company will also provide a new Land Rover to help with the rabies vaccine distribution to the Afya Serengeti team.
"U.S. veterinarians and staff feel great knowing that they can positively impact basic veterinary care and human health in Africa through their support," said John Janelli, marketing manager, Companion Animal at Intervet/Schering-Plough Animal Health. "Clients having their dogs vaccinated for rabies will have the satisfaction of knowing they are doing the right thing for their dog while, at the same time, helping dog owners in another part of the world eradicate this serious disease."