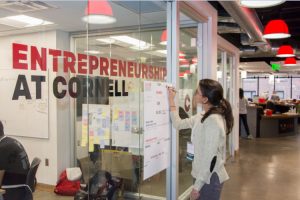 In Ithaca, N.Y., nearly 200 students competed this January to discover the next big breakthrough concept in animal health and earn $5,000 in cash and prizes at the second annual Cornell Animal Health Hackathon.
The competition, co-hosted by the Cornell University College of Veterinary Medicine and Entrepreneurship at Cornell, invited students from any college or major to develop innovative solutions for the animal health sector. Students from Cornell, Binghamton University, Georgia Tech, New York University, and Tufts University competed.
"The Animal Health Hackathon is intended to be an immersion learning experience for students to build business and entrepreneurship skills," said Lorin D. Warnick, the Austin O. Hooey Dean of Veterinary Medicine at Cornell. "The veterinary profession continues to diversify to fill vital roles in society and offering comprehensive business and entrepreneurship opportunities for students is a core strategic priority for the college."
During the event, student teams collaborated with veterinarian and entrepreneurial mentors from around the U.S. After 50 original ideas were pitched and groups formed, 10 teams presented their concepts.
"The energy and the passion in that room were palpable," said keynote speaker and Cornell alumnus Ted Sprinkle, CEO of Pet Partners LLC. "Normally, at this stage of their journey, it can be hard to get students to sit down and take in the big picture—but the students at this event were definitely seeing the big picture."
The requirements for all innovations created at the hackathon? Address a problem in one of three categories: client and customer experience; diagnostics, prevention, and treatment; or clinical workflow and compliance. Products and/or services were judged on novelty, scale of impact, and viability.
"The hackathon was refreshing—and essential in providing veterinary students with the reminder that there is so much more out there than our particular area, that much can be gained by collaborating with other professionals," said Nicholas Walsh, a third-year Cornell veterinary student who returned to the event for a second year in a row to compete.
"The hackathon brings together so many diverse fields that can learn from each other, gain exposure to issues that have a broader context and build solutions together," said Isabel Jimenez, a third-year Cornell veterinary student.
The grand prize winners were the creators of HygenaPet—a $10 spray of beeswax and carnauba wax that owners can spritz on their dogs' backsides, allowing poop to slide off the fur rather than stick.
Four more groups won additional honors. Encompass won the diagnostics and therapeutics category with an app that gathers client preferences and habits to help veterinarians customize care. CATcher and Squeak tied in the customer experience category, each creating a smart trap for feral cats and mice, respectively. CowFinder won the workflow category with a product that helps locate a specific dairy cow in a herd.
"It's inspiring to see such enthusiasm, creativity and innovative thinking directed toward animal health and veterinary medicine," said Warnick. "My hope is that this will be just the beginning in terms of the entrepreneurial spirit that's been sparked at this event. This was an important reminder that veterinarians can start software companies, apply new technology to diagnostic tests and treatment, start nonprofit organizations, or become industry executives."