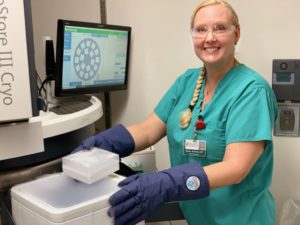 Cornell University's College of Veterinary Medicine's Veterinary Biobank is the first biobank in the world to achieve the American Association for Laboratory Accreditation's (A2LA's) international certification.
A2LA is an international accreditation body that assesses a range of laboratory types using standards developed by the International Organization for Standardization (ISO).
Cornell's biobank received accreditation against ISO 20387, which requires facilities demonstrate the competence of their biobank's operation and ability to provide biological material and associated data for research and development.
"Quality accreditation increases the confidence in our operation. It shows we are transparent about our processes, open to critique, and are doing high-quality work under a rigorous standard," says Marta Castelhano, DVM, MVSc, director of the Cornell Veterinary Biobank.
To receive accreditation, each step in the process requires close inspection from A2LA. As a result, Dr. Castelhano, along with the rest of her team, developed, tested, and implemented almost 80 new standard operating procedures for the biobank in the last year.
"The achievement of earning A2LA's first accreditation to the new ISO 20387 standard ensures Cornell's operations will function with the highest level of quality," says A2LA's general manager, Adam Gouker. "We're proud to be a part of this historic milestone and to provide accreditation to the biobank industry, ensuring the quality of materials being used for research and development."
Cornell's biobank collects samples from both ill and healthy animals, which then are acquired, prepared, preserved, tested, analyzed, stored, and provided to scientists around the world. Using these samples, scientists can accelerate biomedical research projects.
In April, A2LA representatives visited Cornell's Veterinary Biobank to evaluate Castelhano's work. On May 22, the A2LA returned to make the accreditation official in a ceremony at the College of Veterinary Medicine.