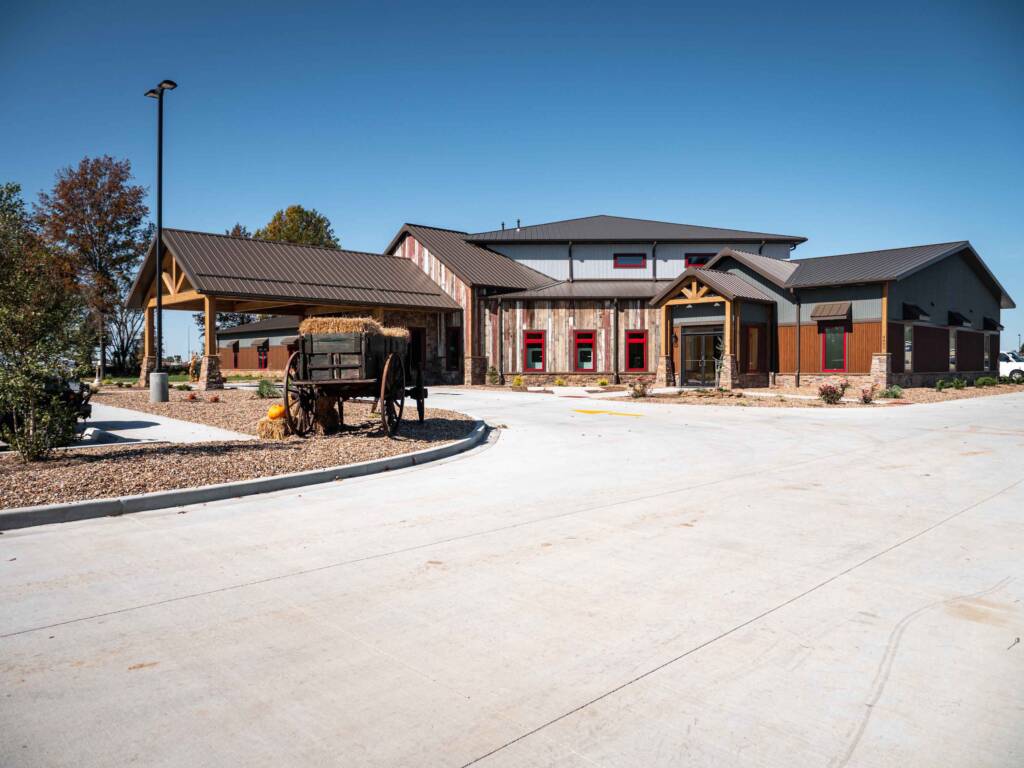 As veterinarians, we know a visit to a veterinary clinic can often be a stressful event for clients and their pets. In designing our new Pet Wellness and Urgent Care Center in Marion, Ill., we placed a special focus on providing not only a high standard of medical care, but also a comfortable environment that is as anxiety-free as possible for animals and their human companions.
Offering treatment for dogs, cats, birds and reptiles, the clinic opened last year and consists of approximately 10,000 sf of hospital space in addition to 7,000 sf for grooming, training, and lodging.
The goal was to create a stress-free space through the clinic's physical appearance, textures, and other design elements. Everything about the new facility was planned with patients and clients in mind, beginning with the clinic's exterior, which does not look like a medical facility, but rather a mountain lodge where one would expect rest and relaxation. The interior is spacious and features high ceilings that incorporate reclaimed wood and sheet metal from buildings in southern Illinois. The same materials were used in the waiting areas, offering a warm, nostalgic atmosphere.
Separation and isolation
Design elements that provide separation and isolation features to enhance medical care and patient/client comfort are critical to ensuring an environment free of fear, anxiety, and stress (FAS). At our practice, the dental treatment area is separate from the rest of the clinic.
All dental instruments, radiology materials, and medicines are stored in this dedicated, self-contained space, which eliminates the need to revamp other parts of the clinic for dental procedures. This not only offers convenience, but also lowers the risk of cross-contamination that can occur when common wet sinks are used. Apart from the medical benefits, a separate dental area communicates to clients that our clinic places an emphasis on dental care.
In terms of the facility's layout, dog and cat exam rooms are located at opposite sides of a diamond-shape interior. Two hallways flow to a common laboratory area with treatment areas that are species-specific. This design eliminates redundancy and also helps us to be more efficient by not requiring staff to travel back and forth from one area to another.
For example, when a feline patient checks in, the technician goes to the waiting area on that side of the building to bring the client into the exam room. The technician can then travel easily to the common lab/treatment area. It also keeps doctors in the loop, so they know where they need to be next.
Minimizing odor
Odor is a concern in every clinic. Of course, if a pet has an accident, there may be a temporary odor, but the preference is to prevent smells from spreading from one side of the clinic to another. To avoid this, the entire building is zoned with multiple heating and air conditioning systems that are separate from each other, with each having its own air supply and return; some of these exhaust air to the outside. Examples include the isolation areas and hospitals wards, where we don't want exhausted air to be recirculated back through the building to avoid contamination due to odor or disease.
Noise control
Reducing noise is another priority when designing a clinic. The goal was to provide a comfortable, low-stress environment for pets and their owners. To achieve that, the building's designs incorporates textures on the walls and sound-absorbing floor mats. In certain areas, such as the lodge, double-wall construction was used with an air pocket in between that works very well in preventing barking from being heard in other parts of the facility, including the reception areas. Noise control features also help decrease distraction for dogs while they are in the training area.
Isolation units
The clinic offers isolation units that are accessed by a single entrance close to an exterior door. This enables dogs to be tested for parvo outside before they even enter the building. If the results are positive, the pet goes directly to isolation. All aspects of the isolation area are kept separate from the rest of the clinic, including a vestibule, exam room, laundry, bathing facilities, and a dedicated staff. Sick dogs also have their own outdoor exercise/play area that is fenced with a curb, prohibiting exposure to other animals.
Other features
Several other building features help support a commitment to achieving a comforting environment, efficiency, and high standard of care, including:
• a wet/dry vacuum system, enabling disinfectant to be sprayed on the floor and then rinsed and vacuumed with the same unit to ensure the cleanest possible environment for patients;
• a water therapy unit for dogs that includes a water treadmill and drying area;
• CT and surgery prep rooms; and
• an ICU kennel, large pharmacy, emergency room, and grieving area with a separate entrance.
The amenities discussed in this article are just part of the overall plan to make pets' and their owners' visit as positive as possible. We know environmental stresses affect our health, which is why we feel our pets should be afforded a disease- and stress-free environment when they come to spend time with us. We do our best to minister to the same attention and care we would want for ourselves.
J. Craig Smith, DVM, is practice owner and senior veterinarian at Pet Wellness and Urgent Care Center in Marion, Ill. Dr. Smith graduated from the University of Arkansas with a bachelor's degree in animal science and received his DVM from Louisiana State University. He has special interests in surgery, internal medicine, dermatology, and dentistry. When Smith is not practicing medicine at the clinic, you can find him spending time with family and raising his cattle.