Suggested Veterinary Products
Dogs can generate huge amounts of force when they bite an object. Just ask Cherry Hill, N.J., police officer Kevin Seta, the handler of a 10-year-old German shepherd named Boz.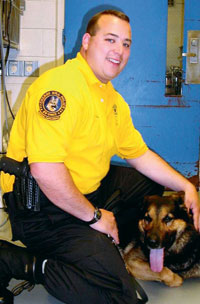 Cherry Hill, N.J., police officer Kevin Seta and his K-9 partner Boz. Photos copyright University of Pennsylvania
Trainers of police dogs often utilize bite sleeves. During training, or in the throes of duty, large canine teeth can fracture from the force and leverage placed on them. When Boz was 4, his right mandibular canine tooth fractured during a bite work session. Seta knew to take Boz to the University of Pennsylvania's Dentistry and Oral Surgery Service at Ryan Veterinary Hospital in Philadelphia.
Boz's fractured canine tooth was a complicated crown fracture, resulting in pulp exposure and the loss of about one-third of the tooth.
Once Boz was placed under anesthesia, dental radiography was performed to determine the extent of trauma to the fractured canine tooth and to assess all other teeth. Pathology was limited to the fractured canine tooth, and radiographic examination showed that Boz's tooth was a good candidate for endodontic treatment and placement of a protective crown over the tooth after endodontic treatment.
Since Boz's tooth fracture occurred within 48 hours of the procedure, two endodontic options were available. Partial coronal pulpectomy followed by vital pulp therapy was a consideration, but concerns of concussive pulpitis of the remaining pulp, and plans to place a metal crown over the access site, made a total pulpectomy followed by root canal therapy a more desirable option in Boz's case.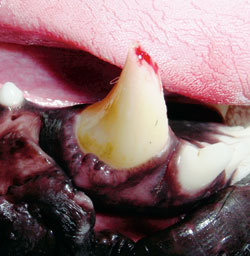 Boz's fractured canine tooth exposed the pulp and resulted in the loss of about one-third of the tooth.
First, a Root Canal
Root canal therapy was performed by making a straight line access site and by introducing veterinary length endodontic files to clean and shape the canal. After the canal was thoroughly cleaned and irrigated, inert and flexible gutta percha points were used with an endodontic sealer to completely fill the canal and prevent percolation of bacteria through the root's apex. A restoration was placed at the access site and the exposed fracture site.
After root canal therapy was performed, the access and fracture sites were restored, and a crown preparation was created using a diamond-coated crown prep bur. The margin of the crown preparation was placed supragingivally to allow for easy cleaning of the margin where the metal crown met the tooth surface.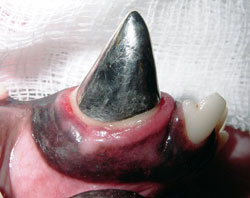 Boz's metal crown shows no sign of trouble after six years.
Once the tooth was prepared, a detailed polyvinyl siloxane impression of the tooth, full mouth alginate impressions and bite registrations were obtained and sent to a dental laboratory for fabrication of a semi-precious full metal jacket crown. A temporary tooth-colored crown was created using a chemical-cured composite material. This temporary material protects the crown preparation margin until a stronger metal crown is fabricated and seated. Seta was instructed to avoid bite work with Boz and remove chew toys until the metal crown was placed one week later.
Boz was placed under anesthesia to check the fit of the metal crown and, once the fit was found to be perfect, the crown was cemented using a thin layer of resin-based cement. Boz was then given the "green light" to go back to bite training and apprehending perpetrators.
Pets Can Benefit, Too
Though most of our prosthodontic work is done in service dogs or police dogs, there are some cases in which pets may benefit from placement of a metal crown. Occasionally, the offending agent that caused the original tooth fracture cannot be removed from the environment.
One example: dogs with separation anxiety who chew on cage bars. A functionally important tooth fractures and the pet owner wants to save the tooth through endodontic therapy.
Once the root canal therapy is completed, repeat fracture of the tooth may occur if the pet is placed in a similar situation in a kennel, crate or animal hospital. Placement of a crown can protect the endodontically treated tooth by placement of a full metal jacket crown on top of the remaining tooth structure.
Crown preparation procedures require a steady hand and an artistic perfectionist's mentality. The end result is a thing of beauty and functionality. Amazingly, the crowns stay in place quite well if you adhere to important considerations during the procedure, even in police dogs that test them every day.
The crown placed on Boz in 2004 has stayed in place for the past six years with no need for replacement.
A Natural Look
Though police officers don't seem to mind the "bling" a metal crown provides to their working dogs, some pet owners opt for a tooth-colored crown. We rarely use porcelain-fused metal crowns since more tooth structure must be removed to allow the layers of porcelain and metal to be flush with the tooth, and porcelain can chip off when repetitive behaviors put forces on the crown. A new tooth-colored, solid zirconia crown has been developed that may provide a better option than porcelain-fused metal crowns.
In some cases, it may be advisable to place a crown on a worn vital tooth to prevent tooth fracture. Dogs that chew on cage bars develop a characteristic wear pattern on the distal surface of the canine teeth, which over time may result in a severe fracture of the tooth. To prevent this, a 3/4 crown may be placed, which covers the tip, back and sides of the tooth. Extra care must be taken during the crown prep procedure of vital teeth to ensure that no excessive heat is generated and that only the necessary amount of tooth is removed to make room for the crown.
Police dogs put their lives on the line for their law enforcement colleagues, and teeth are important tools they use to do their job. Equipping these heroes with a comfortable and functional dentition allows police and rescue dogs to rise to any occasion and be at their best when the need arises.
Dr. Lewis, FAVD, Dipl. AVDC, is president of the American Veterinary Dental Society and an assistant professor of dentistry and oral surgery at the University of Pennsylvania School of Veterinary Medicine.
This article first appeared in the July 2010 issue of Veterinary Practice News. Click here to become a subscriber.