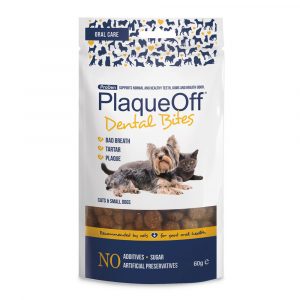 Two clinical studies show that SwedencareUSA's ProDen PlaqueOff Dental Bites for dogs significantly reduce the formation of plaque and tartar. As a result, the bites earned the Veterinary Oral Health Council (VOHC) health claim seal "helps control plaque and tartar."
Jerzy Gawor, DVM, Ph.D., president of Federation of European Companion Animal Veterinary Associations and president elect of the European Veterinary Dental College, performed the studies.
"VOHC acceptance is an important indicator in the efficacy of pet dental health products," said Martin Shimko, president of SwedencareUSA in Poulsbo, Wash. "Pets love them, and now … there is science behind the product."
Study methods
Two groups of dogs, one group with small dogs, and one with small and medium size dogs, participated in the studies. Between two subgroups, one received ProDen PlaqueOff Dental Bites and one received a placebo without the bites' active ingredient, Ascophyllum nodosum.
All dogs were examined and had their teeth cleaned prior to the study.
Study results
After 30 days, researchers measured for plaque and tartar. Groups receiving ProDen PlaqueOff Dental Bites had significantly less plaque and tartar, according to SwedencareUSA. The mean reduction in plaque index was 40 percent; the mean reduction in tartar was 38 percent after using the active product for one month compared to the placebo group, according to the company. Full (90 day) studies are to be published later.