As veterinary dentistry continues to advance, practitioners are increasingly looking for ways to boost the level of services they offer and better their bottom lines. Dental radiography can play a valuable role.
Jan Bellows, DVM, Dipl. AVDC, Dipl. ABVP, of All Pets Dental Clinic in Weston, Fla., says dental X-ray systems should be a required tool for veterinarians who do any dentistry. Yet he estimates that only 10 to 15 percent of practitioners are using such systems.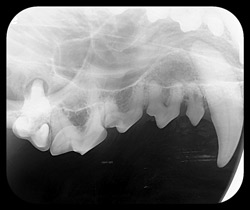 An abscessed molar in a Dachshund.
"In time, if we look into a crystal ball, this will become the standard of care," he says.
The value of dental X-rays in maintaining a pet's oral health is undisputed.
John Lewis, VMD, FAVD, Dipl. AVDC, assistant professor of dentistry and oral surgery at the University of Pennsylvania, says multiple studies have shown that dental X-rays reveal significantly more pathology than thorough oral exams alone.
"It gives you a look at the other 50 percent of the tooth that exists below the gum line," he says. "X-rays help pick up subtle problems due to bone loss and periodontal disease. And with cats, you need dental X-rays to diagnose tooth resorption and to decide on the best treatment plan."
Melissa Magnuson, DVM, of Canobie Lake Veterinary Hospital in Windham, N.H., incorporated a digital dental X-ray system, the AllPro ScanX Duo, into her practice about a year ago. The decision, she says, has revolutionized dentistry at her practice.
"Now that I'm seeing what I see on dental X-rays, it's absolutely unbelievable what I used to miss," she says. "If a practice isn't doing dental X-rays, then it isn't doing its patients justice."
Dr. Magnuson says she regularly encounters patients whose dental problems would have been impossible to diagnose without radiographs. Enamel defects, fractures beneath the gum line, bone loss—all are serious issues that can go undetected during a standard dental exam and cleaning.
Brett Beckman, DVM, FAVD, Dipl. AVDC, Dipl. AAPM, president of the American Veterinary Dental Society, notes that radiography is a relatively inexpensive diagnostic medium that yields tremendous results.
"Most practices charge less than $100 for a full-mouth series," he says. "What do we charge for fecal exams and heartworm tests on our patients yearly?"
Dr. Beckman, who sees cases at Georgia Veterinary Specialists in Atlanta, Affiliated Veterinary Specialists in Orlando and Florida Veterinary Dentistry and Oral Surgery in Punta Gorda, further notes, "A study at the University of California at Davis demonstrated clinically significant radiographic lesions in 28 percent of dogs and 41 percent of cats whose mouths looked absolutely normal.
"Do we get anywhere near that percentage of positive results on the fecal exams and heartworm tests?"
The Digital Difference
Practitioners have a variety of options when it comes to dental radiography systems. And although every clinic's needs are unique, digital systems do provide added benefits over their conventional film counterparts.
For one, Dr. Bellows says, digital systems enable veterinarians to manipulate images on the screen. Thus, specific portions of an X-ray can be enhanced or enlarged to get a better look at areas of concern.
In addition, Dr. Lewis notes that digital systems use less radiation than conventional machines, and they enable a much more rapid turnaround of images.
"This is especially helpful for general practitioners," Lewis says. "When they get a new system and want to work on their positioning technique, it's much easier to learn. Digital systems provide almost instant feedback. So if the veterinarian sees that the film is elongated, they can adjust and quickly see the benefit of repositioning in another way."
Indeed, Magnuson says she chose to go with a digital system for precisely that reason.
"If I had to process the films the old-fashioned way," she says, "it would take a lot more time, and the animal would have to be under anesthesia that much longer."
Addressing Reluctant Patients
Of course, not all clients understand the importance of dental X-rays for their pets. Magnuson says she makes a concerted effort to demonstrate the value of these images to her clients. She shows clients their pets' radiographs and walks them through any problems she spots.
I can show them what an abscessed tooth looks like versus a healthy tooth," she says. "And clients are very receptive to that. They appreciate it because, even on the human side, most dentists don't show you your X-rays."
In cases where patients' X-rays don't reveal any underlying problems, Magnuson reminds her clients that they now have a set of radiographs to which they can compare future X-rays to ensure any developing problems are spotted early.
Magnuson includes X-rays as a part of all dental examinations. She charges $95 for a full set, an added cost to which some clients object.
"It's frustrating because when I give clients a dental estimate, some will say they can go elsewhere for half the price," she says. "But if they say they don't want X-rays done, I tell them that I'd be wasting their money if I didn't do them."
In these situations, Magnuson says client education is essential. She reminds pet owners that, without X-rays, serious dental issues could be overlooked, in which case, a mere cleaning would be futile.
"If a car breaks down, cleaning it isn't going to make it run again," Magnuson says. "It's the same way with teeth."
Recouping the Investment
Incorporating dental X-rays into a practice requires a significant investment. But it's one that veterinarians can expect to recoup quickly, practitioners say.
For example, Magnuson says the addition of dental radiography to her practice has more than doubled her income from dental procedures. She estimates that the average dental bill at her clinic before she added X-rays was $300 to $500. Now, she estimates it at $800 to $1,200.
Lewis notes that dental systems typically pay for themselves quite quickly. And digital models provide the added benefit of reducing costs associated with film and processing chemicals. Although there are additional costs associated with the programs and software updates required by digital systems, the time saved more than makes up for such costs, Lewis says.
Bellows agrees that the efficiency of digital systems boosts their return on investment significantly. Where conventional film X-rays may take up to a half hour to process, digital X-rays can typically be turned around in a matter of minutes.
For practices that purchase a new digital dental radiography system, Bellows estimates that the investment can be recouped within six months, much faster than with most pieces of equipment. Furthermore, many manufacturers provide leasing options, he notes. Thus, he says, even a practice that performs only a handful of dental procedures each week can still easily cover its investment.