Originally published in the June 2015 issue of Veterinary Practice News
Dental caries (the medical term for cavities caused by tooth decay) are common in people but rare in our veterinary patients. Dental caries were first described in domesticated dogs in 1962.1 The NIH reports that 92 percent of adult humans between the age of 20 and 64 have cavities of their permanent teeth. The prevalence of caries in dogs is low, having been documented at 5 percent in a study of 435 dogs.2 Caries in cats are very rare (almost nonexistent).
Etiology
What's the difference between caries and the more commonly seen veterinary problem of tooth resorption? The etiology of caries is due to a combination of having the right bacteria in the mouth (usually a bug called Streptococcus mutans) and having carbohydrate substrates for S. mutans to form acids that eat away at the surface of a tooth. Often times, even that is not enough to cause cavities. Often there is a genetic predilection of a developmental abnormality of a tooth to allow the enamel to be penetrated by these acids. The most common type of caries lesions is referred to as "pit-and-fissure" caries, which most commonly occurs on occlusal surfaces of the molars. Pit-and-fissure caries may present as a "tip-of-the-iceberg" problem, where the defect in the enamel may be small but the degree of dentin involvement beneath the enamel may be significant. Two other types of caries — smooth-surface caries and root caries — can also occur, but these are less common.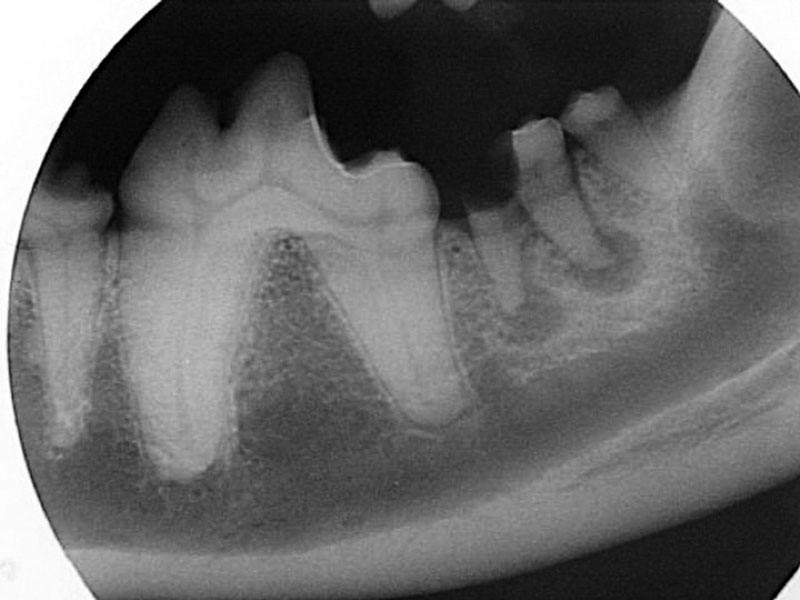 Photo © 2005, John Lewis, University of Pennsylvania
Figure 2: Radiograph of a severe caries lesion of the left mandibular second molar (tooth 310). The degree of crown loss is significant, and the caries bacteria have extended into the endodontic system, resulting in endodontic infection at the apices of the roots.
Clinical and Radiographic Appearance
In dogs, the teeth most commonly affected by caries are the maxillary first molars (Figure 1), and when caries occur, the lesions are often bilateral. Feline caries lesions are more difficult to characterize because they are so rare. There are no prevalence studies of caries in cats, but there is one study that describes caries lesions in two 13th century cats from archived mandibles at an archeological museum.3 The lesions described in the manuscript were so small that they were radiographically undetectable, and these lesions were diagnosed with histologic stains and a test called the Knoop hardness test. In general, if a hard-tissue defect is found on the surface of a cat tooth, chances are that this is due to external tooth resorption. However, over the past 15 years, I have seen two cases of possible feline caries that were unlikely to be due to other more common causes, such as external or internal tooth resorption. Both of these lesions were arising in the lingual groove of the crown of the mandibular first molar tooth and had a radiographic appearance of an almost perfectly circular lucency isolated to the crown with no evidence of root resorption. Early caries lesions are not usually radiographically visible, but radiographic appearance of advanced caries show a circular loss of hard tissue arising from a central starting point, the central point often being an occlusal surface (Figure 2).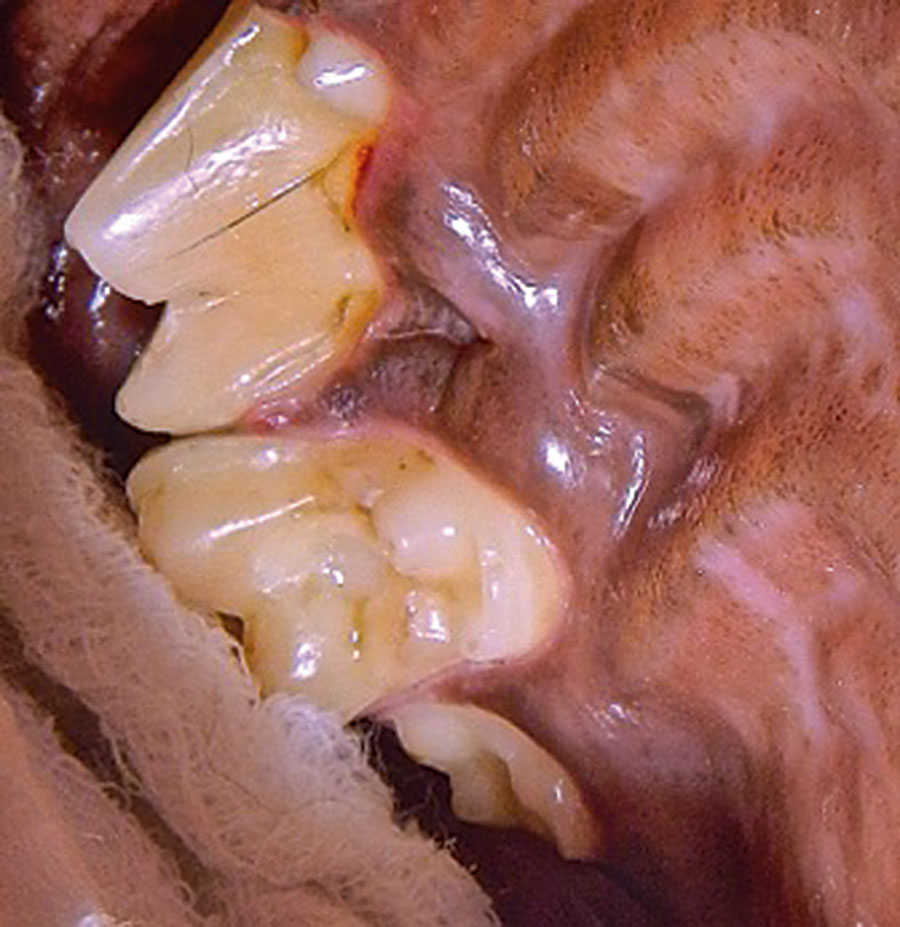 Photo © 2015, John Lewis, NorthStar VETS
A caries restoration of the right maxillary first molar tooth (tooth 109) of the same dog in Figure 1. A light-cured composite filling material was used to fill the cavity preparation.
Treatment
How do we treat caries? Just like human dentists, we use a water-cooled, high-speed handpiece to remove carious dentin and create a cavity preparation, which will be filled by a restorative material. Goals of restorative dentistry include providing optimum function, preventing further breakdown of tooth structure, protecting pulp tissue from further insult, and creating a proper or aesthetic tooth appearance.4 For the cavity preparation shown in Figure 1, I used a #10 round diamond bur to remove the carious dentin. "Extension for prevention" is a term that restorative dentists use to remind themselves to remove all the visibly diseased dentin and a small amount of visibly normal tooth structure to prevent recurrence. This can be a challenge if the caries lesion radiates apically and approaches/involves the pulp tissue. The cavity preparation is created in a way to allow for retention of the restoration. The cavity preparation is etched with phosphoric acid, rinsed and dried, and then a layer of unfilled resin is placed and light-cured. Flowable or compactable composite are placed in layers of 2 mm and light-cured until the entire defect is filled. Care is taken to prevent the restoration from being overfilled; a "high" filling can cause much discomfort. The restoration is polished to ensure a smooth transition at the edges where the restoration meets the remaining tooth structure. A final layer of unfilled resin is placed over the restoration margins to minimize the chances of microleakage around the restoration.
Some caries lesions may have invaded the endodontic system by the time they are diagnosed, and therefore, endodontic treatment may be necessary in addition to placement of a restoration. Some caries lesions have caused so much structural damage that extraction is the only option. Therefore, look for caries lesions as part of your regular anesthetized oral exam, and save those teeth before their lesions become untreatable. Until next month, keep on drilling!
References
Gardner AF, Darke BH, Keary GT. "Dental caries in domesticated dogs." J. Am. Vet. Med. Assoc. 1962;140:433-6.
Hale FA. "Dental caries in the dog." J Vet Dent. 1998;15(2):79-83.
Berger M, Stich H, Hüster H, Roux P, Schawalder P. "Feline caries in two cats from a 13th century archeological excavation." J. Vet. Dent. 2006;23(1):13-7.
Greenfield BA. "Enamel defect restoration of the left mandibular first molar tooth." J Vet Dent. 2012; 29:36-43.