Design renovations don't have to cost a fortune.
Although some veterinarians may long for a complete design overhaul of their practice, practical budgeting in a down economy typically allows only for basic upgrades. Designing on a budget, however, can still make a meaningful difference in client perception and workflow.
Architects and designers recommend prioritizing cosmetic changes to waiting areas, exam rooms and the reception area, saying not to underestimate the power of a new coat of paint and other minimal-expense projects.
"A new coat of paint can be a simple solution and many veterinarians do not use this option often enough," says Mark Hafen, AIA, of Animal Arts in Boulder, Colo. "Shades of orange and lime green are some of the 'in' colors that really make a wall pop. Clients notice positive changes and it makes them feel better about their veterinary experience and bill."
If finances prevent a major overhaul or multiple changes at once, experts recommend that veterinarians tackle individual jobs that have the greatest effect on client comfort and perception first.
"The logical areas to update are the areas clients will be exposed to most in the practice," says Peter Hill Sr., president of HDA Architects in Dawsonville, Ga.
"If you're making changes for clients, try to view your practice from their perspective. Come in the front door and see and hear what they do. Note what you smell in the practice. That smell is an emotional trigger that can be a real turn off if it smells bad."
Designing for veterinary patients is different from designing for a home or even other businesses, Hill says. Durable materials that stand up to claws, urine and harsh chemicals will be more costly, but non-commercial grade supplies will have a short lifespan.
"It's better to do a small amount of something the right way than a large amount second rate," Hafen says. "Don't spread your money too thin or the same projects will need done again in a few years."
Architects and designers specializing in the veterinary industry consider focal points of small projects that can have a lasting impact on existing clients and even attract new ones. Experts say wise spending on a practice's interior and exterior doesn't always mean a substantial financial investment in professional fees and services.
Lighting
"Many clinics are under lit," Hafen says. "Adding more lighting can change the feel of a practice. A trip to The Home Depot can remedy most lighting deficiencies. If you are currently using fluorescent lights, switch to color correcting lights, also referred to as day-light bulbs. Add accent lighting to diplomas, an interior practice logo and pieces of artwork."
Counters and Cabinets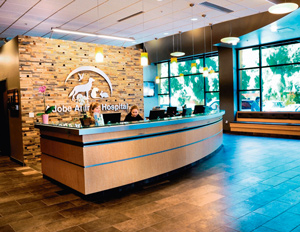 The waiting area sets the stage for a client's visit. Veterinarians and staff should walk through the front door so they can see what the public sees when entering the clinic.
Worn or outdated counter tops and cabinetry in the reception area and exam rooms can be replaced inexpensively, Hill says.
"Many valuable changes can be made for $5,000-$10,000, or even less," Hill says. "Upgrades can be made to fit any budget. If countertops or cabinets need replacement, use materials that will last at least 10 years. Even re-facing cabinets can make a big visual difference."
Flooring
Architects say they see vinyl flooring in many older practices, which, along with porcelain tile, typically does not hold up to use. Through-color porcelain will last longer and if damaged, individual tiles can be replaced without disrupting all the flooring.
"Replace vinyl with porcelain," Hill says. "Through-color porcelain tile means if it gets chipped, a white interior will not be exposed; the same color at the top of the tile goes throughout the piece. When dealing with tile, bigger is better, with 18- or 19-inch tile being the best. Make joints 1/16 of an inch to 1/8 of an inch, and the darker the grout the better, because it will eventually stain or fade regardless of care. Latex mortar under tile and epoxy grout work best."
Some older buildings have painted cement floors, but Warren Freedenfeld of Rauhaus Freedenfeld and Associates in Boston says these types of floors must be eliminated.
"There are two types of painted cement floors," Freedenfeld says. "Floors that have peeled and floors that have not peeled yet. Refreshing areas of the practice sends a message of quality to clients and staff."
Wall benches can keep waiting rooms looking clean and organized but take caution when installing them.
"Wall benches must be anchored into a stud to be strong enough to hold weight," Hill says. "Wall benches also make cleaning the floor easier, but a negative is that you can't move it around like chairs."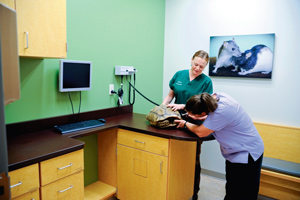 New counter tops and cabinets can freshen up an exam room.
Photo courtesy of Animal Arts/adobe animal hospital
Ceiling
Clients notice the ceiling, too, says Sal Longo Jr. NCARB, AIA, owner of Longo Architecture Studio LLC in Lafayette, La.
"Painting or replacing ceiling tile can eliminate stains from leaks," Longo says. "Always make sure the surface is clean before painting, and of course if there was a leak that caused damage, that it is also repaired."
Hafen says not to forget the quick fixes that cost almost nothing but time to repair.
"Vets are good for having left over boxes, dog food stashes in various areas and old posters lying around," Hafen says. "Just get rid of all of the clutter and organize food supplies."
Longo says having a professional cleaning team come in can give a clean slate to any practice.
"Areas that are walked on or touched often are likely kept clean, but under cages, in corners and behind doors probably have a lot of build-up that when removed improves smell and air quality."
Gary Glassman, CPA, a principal with Burzenski & Company in Easthaven, Conn., says clients relate a bill to the way a practice looks. And judging a veterinarian's brick and mortar practice often transfers to making assumptions about a veterinarian's capabilities.
"If the place looks like a dump and has lack of presentation, it's a client killer," Glassman says. "Some veterinarians think their client base isn't changing and there's no need to invest money in the practice for physical appearances, but that's wrong."
Coffee Bar
Adding a coffee bar or play area for kids goes above and beyond maintenance and appearance, Hill says, but can add a comfort that makes the visit more pleasant for clients.
"Adding a coffee bar can make waiting to be seen more bearable for clients," Hill says. "This can be an inexpensive comfort that receives a lot of positive feedback."
Courtesy of Animal Arts/upstate veterinary Specialists
Select materials that can withstand regular contact with animals.
Incentives
Tax breaks on renovations can't be beaten in 2011 and construction prices are low, making do-it-yourself projects and jobs needing a professional's help more appealing.
"In 2011 only, a bonus tax deduction allows for 100 percent of a remodeling and renovation project to be written off," Freedenfeld says. "Even smaller projects funded by cash-in-hand can be deducted."
Veterinarians might consult with their accountant before starting any project, even if using cash for the renovation. A CPA can give advice for documenting expenses and evaluating the practice's financial stance in case the decision is made to turn a small project into a larger one.
"Vets are sitting on the bench and seeing what happens with the economy," Hill says. "We were $150,000 worth into a project that a veterinarian chose to stop because of the economy. The truth is, though, that this is the cheapest time to build. Construction costs are at their lowest in years. When the economy comes back, the prices will go up."
While alterations to the interior of a project might be kicked around for a few months before taking action, the exterior is often forgotten. Hafen says a well-landscaped lawn sets the stage for the practice.
Landscaping
The building's exterior can help get a practice noticed from the street. Making the most appealing visual effect might mean more new clients.
"People could have driven past your practice for years and never noticed it because nothing about it stands out," Glassman says. "Make sure the outside of the practice is well lighted and the sign is placed appropriately."
Some practices are changing exterior signage to digital signs, which provide lighting and new information that can be updated as often as the veterinarian desires.
"If you typically park in the back of the building, park in the front and examine your practice sign and the landscaping," Longo says. "Getting rid of dead plants and trees can be as simple as hosting a staff gardening get-together in which you supply the supplies and buy lunch."
Glassman suggests planning ahead for renovations that may disrupt workflow, noting that once a plan is in place, the project can be set into motion during slower times of the year.
"The budget always needs to be considered, but short-term fixes always haunt later on," Glassman says. "Being prepared when free time comes around means the chances are better that the project will go from start to finish successfully."