Suggested Veterinary Products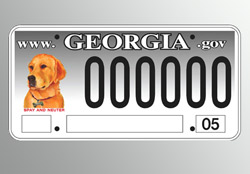 By purchasing one of two pet-themed license plates, Georgia residents are making an impact on the state's cat and dog overpopulation, according to Commissioner of Agriculture Tommy Irvin, who recently unveiled updated figures on the statewide Dog and Cat Sterilization Program.
Since January, more than $198,000 has been raised through sales of dog and cat "Buddy" plates and donations to the program. Georgians may buy one of the license plates for their vehicles from county tag offices throughout the state for a $25 one-time fee.
One plate features a large retriever who is carrying the message that Georgians should spay and neuter their animals to prevent dog and cat overpopulation. A second design displays an image of a cat and a dog framed inside of a peach and the words "Animal Friend." A third version, to feature a cat, is in the works.
From each plate sold, more than $22 directly benefits the sterilization program. The funds are used only for spay/neuter procedures and educational outreach on this choice.
Since its inception in November 2003, the program has distributed more than $1,886,345 to subsidize 35,764 spay/neuter procedures performed by 751 licensed veterinarians.
Licensed, accredited veterinarians perform low-cost sterilization procedures and receive reimbursement through a contractual agreement with the Georgia Department of Agriculture.
"The success of our Dog and Cat Sterilization Program is due to the support of our fellow Georgians," Irvin said in a statement. "With their help, we have been able to make an impact on the health of our four-legged friends."