Suggested Veterinary Products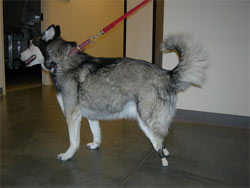 Siberian Husky is the first canine to receive permanent prostheses, vet says.
A formerly abused amputee dog has regained the ability to walk after a series of groundbreaking prosthetic implant surgeries, according to Denver-based Alameda East Veterinary Hospital.
Triumph, a 4-year-old Siberian husky rescued from Turkey and now living in a home in Nashville, is the world's first canine to receive permanent prosthetic legs, according to the hospital.
The complicated task of developing custom artificial legs and surgically implanting them began more than a year ago and required a three-phase approach. The initial implants for Triumph's two hind legs were provided in late 2005, the hospital says.
In 2006 Triumph returned to Colorado for follow-up visits and improvements, with the most recent and final phase being another adjustment surgery that took place in December.
Triumph's implant surgeries are now complete and she is walking and running every day with her new legs, according to the hospital.
"Triumph's journey has been truly amazing and inspiring and I feel lucky to have been part of her success story," said Robert Taylor, DVM, MS, the Alameda East Veterinary Hospital veterinarian who performed the surgeries
"As the first dog to receive the permanent artificial legs, Triumph is paving the way for many other amputee dogs to receive the same treatment and enjoy a life filled with running, playing and walking," Taylor said.
Alameda East is the clinic featured in the Animal Planet cable television program "Emergency Vets."