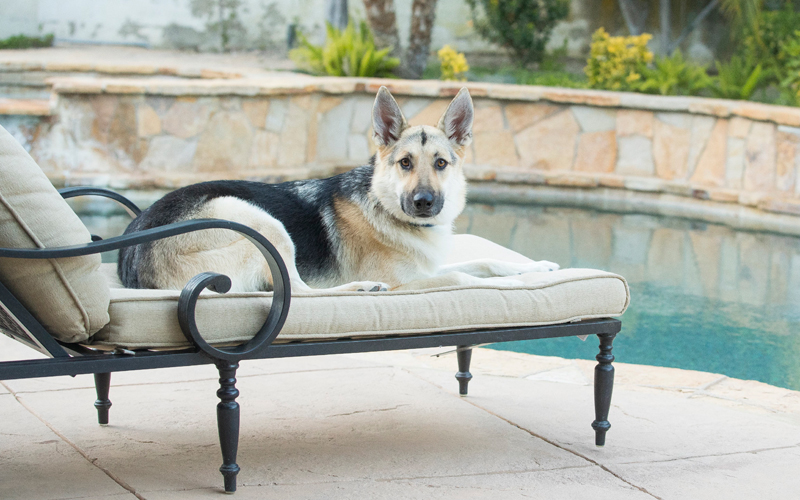 A brave and resilient German Shepherd has taken the top honor at this year's Hambone Awards, presented by Nationwide.
Three-year-old Bruin sustained numerous injuries after tumbling 400 feet into a California canyon. Following a four-day community search, the dog was found by an off-duty police officer and was immediately taken to ACCESS Specialty Animal Hospital – Los Angeles, where he was treated for a broken femur, collapsed lung, internal bleeding, and a shattered leg that required surgery.
"We're all about 'extraordinary care,' and we're always proud to recognize that in our country's veterinary teams," says Nationwide's chief veterinary officer, Jules Benson, BVSc, MRCVS. "In Bruin's case, the entire community showed extraordinary care in finding and helping this dog. I'm so pleased we could be a part of that effort, covering much of the expense through our pet health insurance."
ACCESS Specialty Animal Hospital – Los Angeles has received a $10,000 award from the insurer through the Veterinary Care Foundation (VCF). The funds go toward helping patients whose owners could otherwise not afford veterinary care.
Four other finalists also will receive funds. They are:
Higgins Animal Clinic in Chicago for the treatment of Griffin, a mixed-breed dog from Chicago that ingested a full-length bamboo skewer while chowing on a chicken kebob at a Fourth of July barbeque;
Andover Animal Hospital in Massachusetts for taking care of Sherlotte, a yellow Labrador-golden retriever mix that sustained injuries after half of her body was submerged in a sinkhole near the site of some utility work in her neighborhood; and
Veterinary Healthcare Associates in Winter Haven, Fla., for helping Sophie, a miniature Schnauzer that was thrown from a golf cart when her owner had to suddenly swerve off the road and onto the sidewalk to avoid a car-golf cart accident.
All nominated pets made full recoveries.
Established in 2009, the Hambone Awards were named in honor of a dog that once ate an entire Thanksgiving ham. Past winners include Ellie, a Labrador retriever who gobbled up a beehive and its thousands of inhabitants; Lulu, a hungry bulldog who swallowed 15 baby pacifiers, a bottle cap, and a piece of a basketball; and Ziva and Zeus, two German shepherds who went missing for 22 days in an abandoned missile silo.