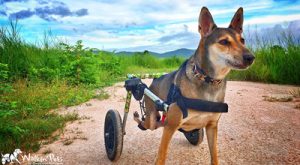 The 2019 Walkin' Pets worldwide calendar contest has announced 13 winners from around the world. This year, the winning dogs hail from eight countries: Thailand, Brazil, Germany, England, United States, Mexico, Italy, and Wales.
The champions were selected by popular vote on the Walkin' Pets Facebook page and were announced through a video by the company.
The winning dogs range in age from 1 to 11 and are of all sizes and breeds, including a dachshund, a German shepherd, a Siberian husky, French bulldog, and more. Each year, the contest features pets using Walkin' Wheels wheelchairs to help raise awareness of options for disabled pets with mobility challenges.
The 2019 calendar is available for pre-order at (888) 253-0777. All proceeds from calendar sales go to the Handicapped Pets Foundation.