Suggested Veterinary Products
The building is nothing much to look at. A simple wood structure, it has a dirt floor, a tin roof and walls that don't quite keep out the dust in the spring, when the winds blow the hardest.
Glenn Gaines, DVM, describes it like a proud father, and no wonder. When it was completed under his watch last summer, the bare-bones building became the first large-animal diagnostic clinic in the entire nation of Mongolia. Equipped with technology like an endoscope, ultrasound and digital imaging system, the clinic is an important step toward the ultimate goal of making modern veterinary care accessible all over the remote, livestock-dependent Central Asian nation.
"There are clinics throughout the country, but really they are not much more than pharmacies that the veterinarians work out of. For the most part they don't have equipment, and if they do they may not have been trained on how to use it," Dr. Gaines says. "That was a big part of our mission, giving the local veterinarians the knowledge and the expertise so they could go out and help [their clients]."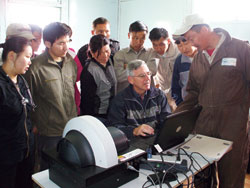 Dr. Gaines trains vets to use AllPro Imaging's ScanX system.
Gaines means the term "mission" literally. For three years he worked in Mongolia as the large-animal adviser for VET Net, a project launched in 1995 by the Seattle-based Christian Veterinary Mission. The program aims to improve veterinary training and care, and educate the children of remote, semi-nomadic herding families.
In a land where the livelihood of up to one-third of Mongolia's 3 million citizens depends on animals, the project's importance can't be overstated, says Gaines, who returned to Texas this past spring and now recruits donors and volunteers for Christian Veterinary Mission's worldwide programs.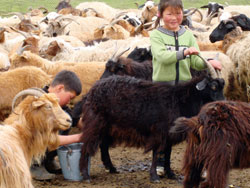 A boy milks a goat as a helper steadies the animal.
"What VET Net has been able to do is not just bring knowledge people need to better their lives, but bring them hope," Gaines says.
Mexico and Beyond
When Gaines and his wife, Kathy, an educator, arrived in Ulaanbaatar, the Mongolian capital, in 2007, they were not novices to overseas work. The couple's faith had led them to volunteer on a number of short-term missions, starting with a trip to Mexico with a church group in 1995.
Kathy worked with schools and children; Gaines went into the fields and treated cows, horses, sheep, ox or whatever the farmers brought him.
"It was eye-opening," Gaines says of that first trip. "We'd traveled to Mexico before for family vacations, but this was so different, to be sitting in interior Mexico in a hut with dirt floors and realizing that the majority of the world just barely survives while we live in such abundance."
Short-term missions followed to Haiti, Cuba, Romania, Senegal and the Philippines, among other places. After two trips to Mongolia in the early 2000s, they found their ultimate calling, Gaines says. They sold his practice and set about raising the $60,000 needed each year to fund their work. The money went to travel costs, equipment and a modest $1,000-a-month stipend.
The Gaineses' expertise was a good fit in Mongolia. He grew up in Texas around farms and livestock before earning a veterinary degree from Texas A&M University in 1982, then launched a large-animal practice in the small town of Brenham, Texas. Kathy Gaines was perfectly qualified to advise the education team, which trains teachers and operates summer schools in the countryside.
"The Gaineses had the skill set and personalities that are needed for this type of commitment, and really, it's a combination of the types of things that make someone successful in veterinary school and practice," says Kit Flowers, DVM, executive director of Christian Veterinary Mission. "They're risk takers, self-starters, motivated to learn, flexible, and have the passion to help others."
Chasing the Herders
Still, preparing for daily life in Mongolia was difficult. Though their one-bedroom apartment in Ulaanbaatar was relatively modern—it had running water and electricity, both of which actually worked most of the time, Gaines jokes—they often traveled into the countryside to reach those in need.
The organization trains the country's 1,100 veterinarians, who must reach 190,000 herder families and their animals, scattered over a land mass 21⁄2 times the size of Texas, with few fences and only 1,500 miles of paved roads.
Until the clinic in Ulaanbaatar was built, Gaines and his colleagues would pack their equipment into old Russian vans and set up training camps wherever they could find electricity. They often stayed in round, insulated tents known as yurts, cooked over an open fire and went a week without access to a shower, all while showing Mongolian vets how to read an X-ray or use an endoscope and treating any animal health issues.
For the Mongolian vets, the training was expanded to the diagnosis and treatment of more complicated conditions like tumors, parasites and pneumonia. Many of them also needed to learn how to run the business side of a veterinary practice, Gaines says.
"They are coming out of the Russian system, where there was not a business sector," Gaines says. "So now that they had to actually make a living, they didn't know anything about business. They didn't know how to do markup, they didn't know how to keep books, they didn't know how much to charge."
And that whole picture—making sure veterinarians can make a living through their work at the same time they're improving animal health—is what's needed to build a sustainable veterinary industry in any developing nation, Christian Veterinary Mission's Flowers says.
"We can teach [veterinarians] to do a lot of stuff, but if they can't make a living it can't sustain itself," Flowers says. "That's where [Gaines] made a great contribution, in the professional development of the Mongolian team, so that they can do this work on their own."
Christian Veterinary Mission recruits veterinarians, veterinary technicians and students for short- and long-term volunteer assignments. Click here for more information.
This article first appeared in the July 2010 issue of Veterinary Practice News. Click here to become a subscriber.