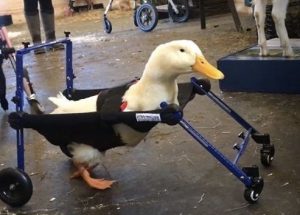 A disabled duck has received a specially-made wheelchair to help it walk.
Walkin' Pets has created it's first-ever Duck Walkin' Wheels wheelchair, a custom-built cart to help Merlin the duck get the exercise he needs.
The company met Merlin during a recent visit to the Goats of Anarchy sanctuary in New Jersey, where he was found with a mobility challenged due to a leg deformity.
Walkin' Pets says it will continue to partner with the sanctuary to develop wheelchairs for other ducks.
To watch a video of Merlin's first steps, click here.