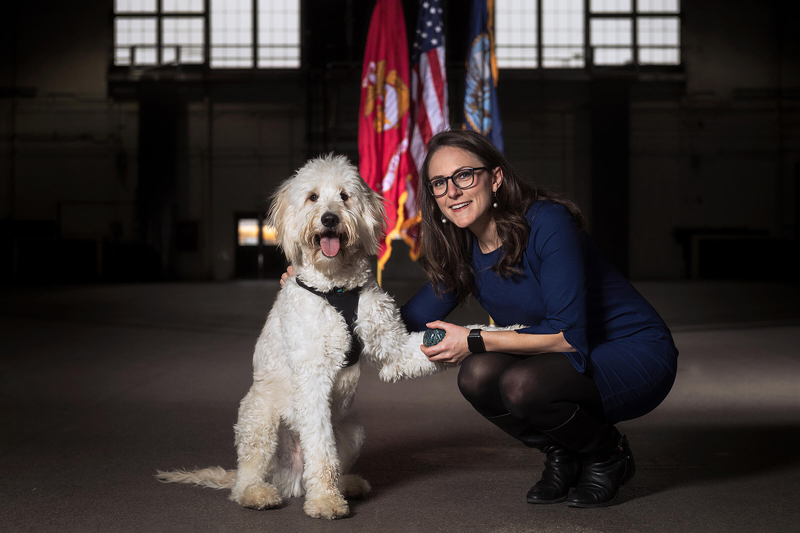 Disrupting episodes of anxiety might be the most incredible gift a service dog can give to a handler diagnosed with post-traumatic stress disorder (PTSD).
A recent study led by Purdue University's College of Veterinary Medicine explored the trained tasks performed most often by service dogs, as well as which are most helpful for veterans with PTSD.
The research, which surveyed 216 veterans from K9s For Warriors and was conducted with funding from Merrick Pet Care, found, on average, a service dog's training to both alert a veteran of increased anxiety and provide physical contact during these episodes were reported to be the most important and the most often used in a typical day.
"There has been some debate on what kind of training PTSD service dogs need to be effective and how their assistance may be different than what a pet dog can provide," says the study's lead author, Kerri Rodriguez, a human-animal interaction graduate student. "This study suggests veterans are, in fact, using and benefiting from the specific trained tasks, which sets these dogs apart from pet dogs or emotional support dogs."
The "trained tasks" regularly performed by PTSD service dogs include picking up on cues veterans display when experiencing distress or anxiety, and consequently nudging, pawing, or licking them to encourage focus be shifted to the dog, Purdue University says. Additionally, the animals are trained to notice when their handlers are experiencing anxiety at night and will actively wake up them up from nightmares.
On average, the trained tasks were used about 3.16 times per day, with individual tasks ranging from an average of 1.36 to 5.05 times per day, researchers say.
While the dogs were able to aid in a number of specific PTSD symptoms (e.g. experiencing nightmares or flashbacks, being hyperaware in public), there were some symptoms with which they did not help, such as amnesia and risk-taking.
"Both this research as well as other related studies on PTSD service dogs suggest service dogs are not a standalone cure for PTSD," says the study's coauthor, Maggie O'Haire, PhD, an associate professor of human-animal interaction. "Rather, there appear to be specific areas of veterans' lives that a PTSD service dog can help as a complementary intervention to other evidence-based treatments for PTSD."
The research, which accompanies a study published last year focusing specifically on service dogs' training, behavior, and the human-animal bond, is featured in Frontiers in Psychology. To access it, click here.