Suggested Veterinary Products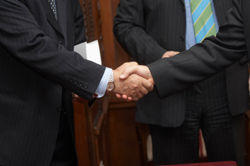 Eklin Medical Systems of Santa Clara, Calif., recently acquired Merlin Digital Technology from Banfield, The Pet Hospital of Portland, Ore., and has agreed to develop digital imaging equipment for Banfield's network of hospitals.
All assets associated with Merlin's imaging products will be included in the sale to Eklin.
"The acquisition of Merlin will allow us to add a number of new products to our line and to begin delivering a more fully integrated solution to Banfield and its many hospitals," said Gary Cantu, founder and chief executive officer of Eklin.
This acquisition will allow us to create a retrofitable digital capture product for practices of all sizes," said William Hornof, Eklin's chief medical officer. "Applying Eklin's resources and know-how to the Merlin product line will significantly increase image quality, consistency and overall ease of use."