Suggested Veterinary Products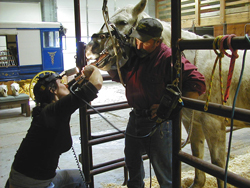 In April, the American Assn. of Equine Practitioners launched a campaign to promote giving horses thorough oral examinations at least once a year. The campaign runs through 2008 and is designed to reach horse owners.
Heightened awareness means clients are becoming more concerned about the practice of equine dentistry. Many seek veterinarians who specialize in dentistry and are up on the latest research and oral health care technologies. Indeed, the basic tool set of an equine dentist—speculums, headlamps, floats, forceps and other extraction devices—may include some newer technologies.
Mechanical Restraint
Many veterinarians sedate their equine patients during dental exams and treatment, and many employ some form of mechanical restraint to keep a patient still. Effective yet safe and humane restraint is imperative in good dentistry. Often, however, equine patients don't comply.
"You can do better quality work, and do it more efficiently, on a still, quiet horse," says Illinois-based Marc Miles, DVM, who has been in equine practice more than 30 years. "You can do a better job of educating clients, too, because you can safely show them what's going on in their horses' mouths without worrying about someone getting hurt."
With this in mind, Miles developed the Miles Equine Gizmo, a towable, mobile chute with a plethora of safety features. The device is endorsed by the Louisiana State University School of Veterinary Medicine.
Miles explains that he still routinely sedates his dental patients, but the Miles Equine Gizmo design prevents horses from moving side to side or forward and backward, and it features an adjustable, quiet, hydraulic head stand as well as manually adjustable chest and tail gates to accommodate all horses.
"You can adjust according to the size of the horse," Miles explains. "The adjustable chest gate moves up and down so you can avoid catching horses in the trachea." The chest gate and tail gates swing open and there is nothing overhead, so the design is more inviting for claustrophobic horses.
Finally, the product features a power system that doesn't draw off the tow vehicle and has a 110-volt inverter that provides juice to run power tools.
Radiography
Radiographs are valuable aids in the diagnosis and management of equine dental disease. Conventional film radiography can involve making multiple trips to the horse, however.
"With film, the practitioner makes the trip out, takes the X-rays, goes out to develop them and comes back to the farm with the images to discuss treatment," says Clif Voss, senior digital imaging specialist with Rapid City, S.D.-based Diagnostic Imaging Systems Inc. "It's a lot of drive time."
Portable digital equipment, either digital radiography (DR) or computed radiography (CR), allows the practitioner to take high-quality intra-oral and extra-oral radiographs and instantly process the images "stall-side." Diagnosis and treatment can often be accomplished on the farm with a single visit.
"This type of equipment is really an expanding area," Voss says. He has seen an increase in the number of equine dentists investing in the digital equipment (both CR and DR). He says that, with the exception of those practitioners who are getting set to retire, it's a question of "when, not if," to buy digital.
Diagnostic Imaging Systems manufactures and markets both CR and DR equipment. Voss explains that with CR, a veterinarian can run any size plate for both intra-oral and extra-oral images; DR is a bit more limiting.
From a diagnostic standpoint, Voss believes DR and CR surpass film. If you don't get the right shot, he explains, "you have a little more latitude. The features you've got include magnification, measurement tools, changing the contrast ratios—you've got so many advantages.
"You can still get excellent film radiographs, but there are many things you can't do," Voss continues. "You can't e-mail images, you can't burn them on to a CD–they're not a digital medium."
Another benefit of instant imaging is client education.
"The practitioner can explain whatever pathologies he sees right after X-rays are taken and can discuss treatments on the spot," Voss says.
Floating
Floating a horse's teeth involves expertise and good tools. Many veterinarians use hand tools with great success, but the job can be tiring and time consuming. As a result, the field of equine dentistry has been driven by the development of power tools for floating that take away some of the labor-intensive work.
Julie Jeffrey, controller for Glenns Ferry, Idaho-based World Wide Equine Inc., which specializes in the manufacture of equine dental equipment, believes power equipment has revolutionized equine dentistry.
"People still use hand tools and do a great job," Jeffrey says. "But if you're looking at doing a horse quickly and efficiently, power tools are the way to go."
This is especially true for practitioners with physical limitations, particularly shoulder or elbow problems.
Jeffrey says you can accomplish all aspects of floating using good power equipment.
"In terms of balancing the horse's mouth, you can do it all," she says.
Jeffrey agrees that power tools aren't for everybody.
"For someone with little training, hand tools are probably better," she says. "Power tools take a lot of tooth off very quickly, so you need to know what you're doing."
Additionally, there has been some research indicating that there can be irreversible thermal damage to a horse's teeth when power tools are misused. Jeffrey says vets can run into problems if they're not careful, but she stresses that education and training can eliminate misuse.
"We don't like to put power tools into the hands of people who don't know what they're doing," she says.
The right tools and technologies play an important role in equine dentistry, but so does good veterinary medicine. Product advancements can never replace proper training, knowledge and common sense.