Suggested Veterinary Products
Equine practitioners constantly face diagnostic challenges. Without hesitation they invest in the knowledge, resources and equipment needed to meet these challenges, because it is their passion.
But very few practitioners take the time to diagnose the health of their business. Good business and good medicine must work together for practices to truly succeed.
One important component of good business and client service is to understand and implement an effective services marketing plan.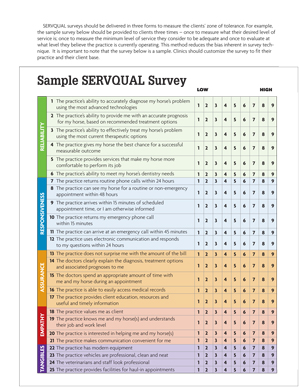 Sample 1
The services marketing mix considers seven P's: product, price, promotion, place, participants, physical evidence and process. When marketing veterinary services, all seven P's should be considered. To put this into familiar terms:
• Determine the service products horse owners want;
• Set the price for those services;
• Promote those services;
• Decide where services will be offered (in the field, clinic, race track, etc.);
• Manage the participants (clients and staff);
• Provide physical evidence of these services; and
• Control the process of service through procedures and flow of activities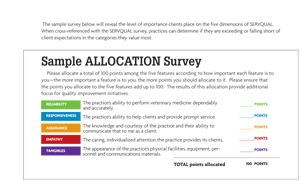 Sample 2
Beyond a "Gut Feeling"
One of the most important of the seven P's is product, and in the case of veterinary medicine, services are the products sold.
In the past, practitioners have depended on a "gut feeling" as to what services they should offer clients. While this feeling can help guide practitioners to the right direction, the extended Service Quality (SERVQUAL) Gap Model can help fine-tune their decision.
SERVQUAL can be used to provide the type of services clients want at the level of quality they expect.The ultimate goal is to create a positive relationship employing service quality, customer loyalty and perceived service value.
How it Works
SERVQUAL measures five dimensions of service quality:
Reliability—the ability to perform the desired service dependably and accurately
Assurance—the ability of employees to convey trust and confidence through knowledge and compassion
Tangibles—the physical appearance of personnel, facilities and equipment
Empathy—the considerate individual attention the practice provides its clients
Responsiveness—the willingness to help clients by providing prompt response and service
One simple, easily implemented tool to apply this method to any veterinary practice is to develop a survey focusing on the five dimensions of SERVQUAL. The questions can be developed by the practice, but are most effective if they are reviewed by a small focus group of clients prior to distributing to the complete client database.
These questions should be administered in three forms to help clinics understand their clients' tolerance for service:
• Minimum expectation of service;
• Desired level of service; and
• Current performance
Additionally, clients can be asked to distribute 100 points between the five SERVQUAL dimensions to help practices understand the level of importance placed on each dimension/category, (see Sample 2).
For example, if empathy as a category is ranked high, and the questions developed that measure perceptions of empathy rank low, practices should correct this problem.
What To Do With the Results
By utilizing the extended SERVQUAL Gap Model, clinics can determine, based on the results of the survey, if what their practice is providing is what their clients want.
This method requires practices to ask the following questions for each gap.
Gap 1: Did we know what they wanted?
Gap 2: Did we design our practice to deliver what they wanted?
Gap 3: Did the practice function to deliver what they wanted?
Gap 4: Did we deliver what they wanted based on promotional information?
Any one of the above gaps and/or a combination of the above leads to Gap 5.
Gap 5: The difference between the service clients expect and what they perceived the service to be.
Implementation
By using an online survey service, such as Survey Monkey, the practice can keep feedback anonymous, which may increase the integrity of the answers.
Practices should strive to exceed client expectations in all categories; especially those that were desired to be at a higher level based on the 100 point allocation results (see Sample 2). Note that not all Gap 5 differences are negative. Some clinics may already be exceeding client expectations. This marketing tool will simply confirm that the clinic is on track.
Service quality evaluation should not be a "one-and-done" solution and can't be implemented by an impartial team.
To benefit from service quality evaluations they must be part of an ongoing strategy that is enforced by all team members—from the office manager to the practitioner.
To Learn More
Since 2009, Merck Animal Health has provided more than 50 clinics with presentations, workshops and third-party client focus group services to implement SERVQUAL evaluations.
To learn more about the company's "How to Market Your Equine Practice: Focus on Service Quality" program, as well as other programs offered by Merck Animal Health to help equine practitioners build their practices, call 800-521-5767.