Suggested Veterinary Products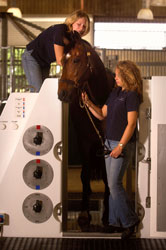 Improvements in veterinary medicine, specifically high-tech diagnostics and advanced surgery techniques, have changed the way veterinarians view serious equine injuries.
Rather than prompting euthanasia, many injuries are now successfully treated and, in some cases, horses are brought back to pre-injury performance levels.
As more options become available to repair injuries, veterinarians are realizing the benefits of—and need for—equine rehabilitation, or physiotherapy.
Arlene D. White, PT, M.AnimSt, heads up the equine section of the Animal Rehabilitation Institute in Loxahatchee, Fla., which offers rehabilitation courses for veterinarians, veterinary technicians, physical therapists and physical therapy assistants.
White explains that rehabilitation "has been proven in human literature and is now gaining popularity in the veterinary population.
[Veterinarians] have begun to see the outcome of a well-designed rehab program. Evidence-based medicine is proving that these techniques work. There is a lot of work to be done in the research aspect, but the future is bright."
Narelle Stubbs, B.appSc (PT), M.AnimSt (animal physiotherapy) Ph.D. (equine back pain) agrees: "Within the last 10 years we've started to see a bit of evidence-based research coming out on equine rehabilitation."
Stubbs, who conducts physiotherapy research alongside Hilary Clayton, BVMS, Ph.D., MRCVS, at Michigan State University's College of Veterinary Medicine, says that in addition to the science-based evidence coming out, more veterinarians are open to pursuing rehabilitation because now there are qualified equine physiotherapists in practice.
She explains that while there are some excellent equine physiotherapy certificate programs available, U.S.-based universities currently don't offer any postgraduate degree programs in the field. However, Australia and the United Kingdom do.
"As a result, now there are some very well-educated practitioners here in this country," Stubbs says.
A Team Effort
White stresses that a good rehabilitation program begins immediately after an injury occurs, which means proper veterinary diagnosis and treatment are paramount.
"The most important guideline is a good veterinary diagnosis before you begin to design your rehabilitation program," White explains. "The rehabilitation program needs to be flexible—every horse and every situation is different—so there is no cookie-cutter approach. You must listen to the animal and communicate with your team so that you can create the rehabilitation program to suit the individual horse's situation."
Bethea Hill, the lead veterinary technician at Pegasus Equine Rehabilitation and Training in Redmond, Wash., says that bringing a horse back from injury requires a cohesive approach.
Every horse at Pegasus is referred by a veterinarian, and Pegasus works with the veterinarian throughout the treatment and rehabilitation process.
"It's definitely a team effort between an owner, the owner's veterinarian and the staff at Pegasus," Hill explains. Pegasus, which can house up to 110 equine patients, offers an array of equine rehabilitation services including hyperbaric-oxygen therapy, a swimming pool and underwater treadmill, an indoor poly track and many other modalities.
"Every horse at our facility has a veterinarian attached to it," says Kirsten Johnson, who is a partner at Kentucky Equine Sports Medicine and Rehabilitation Center (Kesmarc), in Versailles, Ky. "It's our job to preserve the veterinarian's work," Johnson says. "We let the vet decide what he thinks is best, and we assist in putting a program together."
With a staff of 30, Kesmarc can accommodate up to 75 horses and features a swimming pool, underwater treadmill, hyperbaric-oxygen chamber and an indoor riding area with special footing, to name just a few of its services.
"I'm a real proponent of these modalities and using them in the correct way," Johnson says. "Rehab is a way to send the horses back home with more conditioning, so they are much less likely to re-injure themselves when they start back in training."
There's also a safety issue to consider. In a controlled rehab setting, which includes well-trained staff, a horse can get the mental and physical stimulation it needs while reducing the risk of injury to itself and the human handlers.
Structured Rehab
Johnson acknowledges that certain injuries, such as fractures for example, dictate stall rest, but movement in a controlled setting is far more advantageous than stall rest for certain types of injuries and that's where structured rehabilitation, beyond just hand walking, can be so beneficial.
"We are trending to get horses moving sooner than years ago to better align and adapt the support structures while they heal and prevent laxity in the healthy structures," says Kenneth E Sullins, DVM, Dipl. ACVS, professor of equine surgery at Virginia Tech's Marion duPont Scott Equine Medical Center.
"Most cases will benefit greatly from early physical therapy intervention," White says. She explains that rehabilitation can speed healing, prevent scar tissue formation, help make the horse less painful and maintain overall fitness.
"Even when a horse is confined to the stall after a serious injury there are plenty of treatment options available to reduce inflammation, increase range of motion of joints, reduce pain and spasms using soft-tissue mobilization, prevent disuse atrophy using electrotherapy, et cetera."
Hydrotherapy, such as swimming, underwater treadmill work or equine spas, is becoming a common modality in equine rehabilitation and is getting more attention.
"Hydrotherapy allows for earlier intervention, within days of injury or post surgery in some cases," White says. "Exercising in water allows the horse to unload painful joints, as well as weight bear on otherwise very weak or painful limbs. Swimming can increase the amount of energy expenditure increasing cardiovascular fitness, muscle mass and strength."
There is sufficient evidence now regarding the effectiveness of hydrotherapy in humans, but little exists regarding veterinary protocols, guidelines and implementation of these programs in horses. However, that's changing.
"Swimming pools are good when motion is allowable but weight bearing is not," Dr. Sullins says. He explains that swimming "gets a horse's heart and lungs back to work."
Hill agrees that swimming helps bring back fitness without any concussion on the limbs, and she says the exercise also increases a horse's range of motion post injury and can be a mentally stimulating activity for a horse that is otherwise confined to a stall.
More Hydrotherapy
Another form of hydrotherapy is the use of underwater treadmills. Sullins says that submerged treadmills help buoy a horse during exercise so it's not bearing as much weight.
Hill says that underwater treadmills offer 40 percent to 60 percent buoyancy and are great tools "for starting to get a little bit of weight bearing on the [limb] without too much concussion. It's a very safe and controlled environment."
Use of hyperbaric-oxygen therapy for horses has increased recently.
"Hyperbaric oxygen is receiving a lot of attention as an accelerator of healing," Sullins says. With hyperbaric-oxygen therapy, the horse is placed into a chamber where it receives oxygen at higher than normal atmospheric pressure. The theory is that by increasing oxygen saturation in the bloodstream, it increases oxygen in body tissues and thereby speeds healing.
Johnson says that in her practice, the rehab technologies are seemingly endless and she gets to see and try everything. "When something new comes along, those of us in the field are among the first to see it."
"All approaches can aid the horse in returning to function, but care must be taken to ensure they are used correctly and safety must be addressed in each case," White says.
And she adds that veterinary consultation and ongoing involvement is first and foremost in a good rehabilitation program.