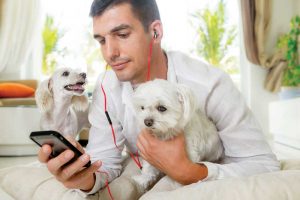 Have you thought about ethical issues in the new digital age?
The world we live in is vastly different from just a few years ago. Remember the days when getting a taxi meant hoping to see one drive by on the street and waving frantically to get the driver's attention? Not so today, given the various apps available literally at our fingertips.
This digital revolution seems to have infiltrated every aspect of our lives, including the way we practice veterinary medicine, which raises several ethical and legal questions. What type of world will we practice in as we evolve in the digital age and adopt new technology allowing unprecedented generation and access to digital data? Will it be one in which people in animal health just obey the law, or one where they are obedient to the unenforceable: honesty, integrity, responsibility, respect, caring for others, and courage2? These are the universal elements of ethics to consider, as we encounter specific challenges of embracing and using technology in practice. The whole veterinary community is responsible for upholding its ethical norm now that veterinarians can digitally support "pet parents" at home and in between visits.
Playing catch up with innovation
Veterinary medicine is on the verge of experiencing the biggest disruption in its history. This change is primarily driven by client expectations of being able to interact with their veterinarian through technology like they do with other businesses, such as restaurants, hotels, and banks. There also are economic forces at play as our "product and services economy" changes to the "knowledge, experience, and sharing economy."1,4,5 Millennials now account for the largest demographic of pet owners, as well as a growing segment of the veterinary profession, and are credited with the economic shift described above. They are the early adopters of digital tools in human health care. However, most Americans now have a smartphone within arm's reach, and technology has breached the generational gap.25
According to well-known economist Milton Friedman, technology and innovation always lead the way, while ethics and law must catch up. As such, we must consider how technology will change animal care, and be prepared to not just shepherd the change, but lead it and transform what it means to be a veterinarian in the digital age.
Consider my example in the first paragraph and how the taxi industry was transformed by the introduction of data and software combined with a sharing economy. In other words, Uber. Think of today's new definition of "hotel" (i.e. Airbnb). Ethical discussions are ongoing, as regulations evolve to meet consumer expectations. Similarly, what will the veterinarian client experience be in the future?
Client expectations have shifted focus. Now, it's the "experience" pet owners have with their veterinarian that is viewed as important as the outcome of the "episode of care." If technology is designed within thoughtful and ethical boundaries, the veterinarian maintains his or her position as a trusted advisor for animal care, and the relationship is extended to a more engaged and interactive one outside the walls of the practice and into the pet's home.6 To remain trusted advisors, veterinarians must interact with clients more than our current 16 minutes a year in the exam room. We must also do so in different ways than we have in the past, all the while remaining true to the oath we've taken
Vigilance matters
The economic and generational tectonic shift toward technology and the veterinary profession's eventual participation will definitely result in a large accumulation of digital assets.
Digital assets require constant vigilance to protect the value of the data to predict and prevent animal (and human) diseases, as well as improve the financial health of practices. Vigilance also is needed to prevent the unintended negative consequences of some commercial uses of the data. For example, companies may extract and sell the data and benefit from the work of veterinarians without sharing the profit with them.3
In human health care, digital assets are kept in repositories by public entities (e.g. county public health departments, the Centers for Disease Control and Prevention [CDC], and the World Health Organization [WHO]) to preserve their public health value. No such public entities exist in animal health care.8 There are a few organizations, such as the Association for Veterinary Informatics (AVI),21 which is a nonprofit organization of veterinary professionals and bioinformaticists who propose standards and raise ethical issues. That said, they have few resources and no government support to protect data assets for animal health purposes. Other organizations, such as the American Animal Hospital Association (AAHA), have made strides in developing standards for the profession. AAHA has led the development of standardized nomenclature in veterinary medicine (SNOMED subset) in partnership with the Veterinary Terminology Services Laboratory (VTSL).20
What is the veterinarian's role in creating the new ethical code in the digital age? What is the role of the veterinary technician? Even though independent practices represent the clear majority of veterinary care today, how do they have a voice in the future of how their patients' data will be used? How is their clients' privacy maintained? And how will the quality of medicine be upheld when the relationship between the veterinary team and the client is virtualized? Veterinary corporate groups, it could be argued, have even more responsibility in this respect, as they have the power and resources to ensure their participation in the digital age evolves ethically. Their impact on the future of veterinary medicine also will be quite substantial.
This new veterinary-client-patient relationship (VCPR) must be able to be orchestrated on the smartphone. For those practitioners willing to embrace changing client expectations, technology will become the medium ensuring they remain relevant and able to lead a thriving, competitive, and sustainable business, while fully participating in the evolving economy.
Veterinary ethical issues happen on many fronts in technology
First, there are veterinary data usage ethics that are looming and being confronted in our profession right now as "clinic data becomes big data."3 Second, we must be aware of client privacy concerns and strive to deliver the level of privacy protection pet owners assume we already do, namely one that is above and beyond the newer privacy laws, such as General Data Privacy Regulation (GDPR) globally and the California Consumer Privacy Act (CCPA). Third, with the new emerging use of telemedicine (i.e. virtual care), we need to resolve the ethical issues surrounding the changes being proposed to the VCPR as defined in each state practice act and define the new ethical norm, all while maintaining our trusted advisor position with the animal owner/pet parent. And fourth, there are ethical considerations surrounding the ability to share records outside your practice or your group of practices.
In the spirit of providing solutions instead of just bringing up issues, the following categories provide a few "ethical proposals." Some are simply suggestions on how to put our ethics into practice, while others are starting points for a more detailed discussion that needs to take place not only in organized veterinary medicine, but at veterinary conferences and in "veterinary town halls" across the country. More likely, some veterinarians who are adopters of technology will stand up and challenge technology providers who do not conform to the veterinary ethical framework in a public forum.3 In these ways, veterinary technology innovation will evolve "collaboratively and competitively."7
Ethical issues and data usage
Having veterinary ethical guidelines that are well understood when selecting technology that produces and uses veterinary data is imperative. Many new technologies will revolutionize patient care and vastly improve the veterinarian's ability to connect with clients by using data and software to transform the client experience. Veterinary medicine is on the verge of evolving our ability to help realize the four Ps of medicine: prevention, prediction, personalization/precision, and participatory.6 However, we will need technology to incorporate all this data into a meaningful clinical workflow to impact patient outcomes. For this reason, we can't allow ourselves as veterinarians to back away from technology out of fear of the few who will abuse the power of "big data." We must arm ourselves with knowledge—with that knowledge comes the understanding a veterinarian must choose to enforce ethical guidelines pertaining to data. If veterinarians understand how to select the right technology aligning with our ethical vision, we will not only be able to uphold our ethical norm in this generation, but also make it our legacy.
To be sure, ethical veterinarians understandably have concerns about user agreements that allow data-collecting companies to do whatever they want with data, including selling it. What is even more concerning is that the pet owner does not even realize the information veterinary staff enters into a practice management system may be shared beyond the clinic.3
continued on next page…