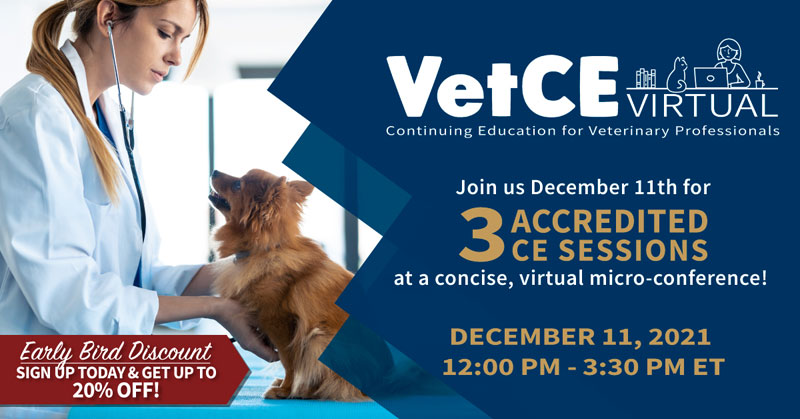 Veterinary professionals looking to refine their euthanasia appointments and strengthen client relations can sign up for an upcoming live virtual continuing education (CE) event.
Featuring three consecutive RACE-approved, one-hour presentations, "Pet Euthanasia: Honoring the Bond and Discussing it with Clients" is part of the VetCE Virtual series of micro-conferences. The event will take place Dec. 11, beginning at noon ET.
The unique featured sessions are:
"Euthanasia Reimagined: The Modern Approach," presented by Kathleen Cooney, DVM, CHPV, CCFP;
"Talking to Clients about the Most Important Appointment: The Euthanasia," presented by Melissa Tompkins, BS, CVPM, PHRca, CCFP; and
"Ethical Criteria Indicating Euthanasia in Canine Aggression," presented by Rolan Tripp, DVM, CABC.
Specifically, registrants will explore:
how to come to an educated decision regarding whether to euthanize in canine aggression cases;
mistakes to avoid in scheduling, handling, and communicating before, during, and after a euthanasia appointment;
what clients want, what patients need, and how veterinary teams can find fulfillment in euthanasia work; and
euthanasia best practices.
VetCE Virtual is produced by Veterinary Practice News and VetMedTeam, an online resource offering CE to veterinarians, credentialed veterinary technicians, and practice team members.
For those unable to attend the live event, the sessions will be available an VetMedTeam as VetCE On Demand RACE-approved self-study courses. Click here to see courses from previous VetCE Virtual events (listed under "VetCE On Demand"). All registrants for the live event will have access to the recordings following the presentation.
To register, click here. For more information, contact info@vetce.events.