All year we at K-Laser USA have presented you with scientific evidence of laser therapy, from fundamental biochemistry to the physics of laser penetration.
You have heard from the experts in this field, but the most important story-tellers are the owners of the pets whose lives have been forever changed. Below are two polar opposite examples (one superficial and the other deep-seated) to illustrate the enormous diversity of Class IV laser therapy applications.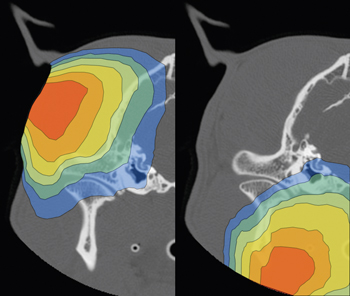 Monte Carlo Dosimetry Simulation
Bryan J. Stephens, Ph.D., is the director of research and development for K-Laser USA. He is an expert in radiation's interaction with biological matter, specifically in radiation dosimetry and photobiology.
Treating From the Inside Out
Laika, 3-year-old, 15-pound female intact French bulldog
February-March 2011: Laika developed a chronic head tilt and became unstable on her feet going upstairs and around the home. Following treatment a total ear canal ablation (TECA) was performed.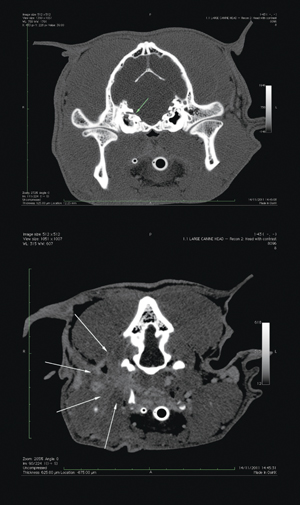 Final CT showing marked improvement in para-aural and tympanic bulla with no evidence of abcessation. CT scans provided by Clerkenwell Veterinary Hospital in London—Dosimetry Calculations by Dr. Stephens
On April 28, 2011, a CT scan was made of the dog's head as the condition had returned. The resulting scan showed a soft tissue material filling the right tympanic bulla that was not confined by a membranous structure. No sign of infiltration was evident in the area where the lateral ear canal had been present—it was only confined to the bulla region. The left ear canal was normal with no significant changes in the appearance of the left bulla.
Cephalosporin and prednisolone were initially prescribed, but the dog's condition worsened.
During the summer months Laika's stability was inconsistent, but gradually deteriorated until she was readmitted in September 2011 as the head tilt had returned and her gait was becoming unstable again. CT scan showed increased para-aural and tympanic bulla inflammation and soft tissue infiltration. Antibiotics and anti-inflammatories were prescribed.
On Oct. 24, Laika was started on Class IV laser therapy. The laser parameters were set for a dark-coated dog, head, edema and congestion setting. Dr. Stephens provided Monte Carlo simulation data based on the original CT to suggest proper positioning, dosing and treatment times. The calculated dosage was 600 J, targeting 2.5J/cm2 at the depth of the bulla using a 2cm spot size on the surface to reduce scatter. She was treated three times in the first week, twice in the second and then once weekly.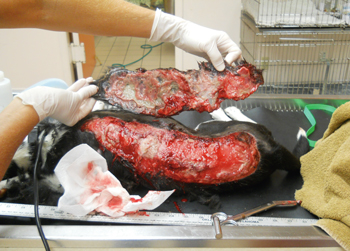 Original burn at admission.
The Nov. 14 CT scan showed a marked improvement in the para-aural and tympanic bulla soft tissue infiltrate and no evidence of any abcessation. Her clinical signs had improved to almost normal. Laika's owner was extremely happy with the clinical outcome for her dog. After such a long period of surgical and medical intervention the head tilt did not fully resolve until Class IV laser therapy was introduced.
Treating from the Outside In
Toto, a 4-year-old, 25-pound male neutered rat terrier mix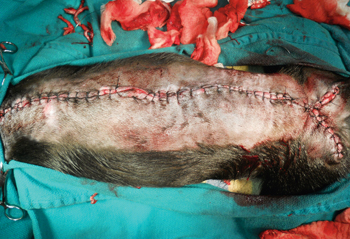 Immediately post-operation.
Toto was brought to West Palm Animal Clinic on July 21, 2011, from Palm Beam Animal Care and Control with a severe burn along his back. Animal welfare professionals speculated that the cause could be deliberate injury, gang activity, accidental chemical burns and/or use of off-label products for flea and parasite control.
The dog was sedated and the wound was cleaned and sutured.
He was immediately treated with laser therapy and started on antibiotics.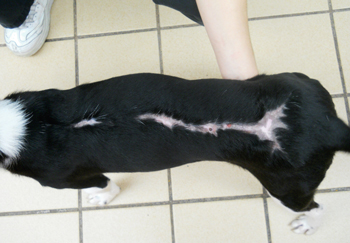 Two months and 14 Class IV laser treatments after original incident. Photos courtesy of West Palm Animal Clinic, West Palm Beach, Fla.
The first two weeks, laser therapy was administered Monday, Wednesday and Friday using the contaminated wound setting. The following weeks it was administered twice per week (Tuesday and Thursday) with the same setting. On Aug. 8 he tested positive for ringworm and demodectic mange and treatment was instituted.
When treatments were complete, he was taken back to Animal Care and Control on Sept. 1 and was soon adopted. He had healed completely with a minimal scar. On September 21, 2011, the new owner brought Toto in for us to take pictures of his scar.
For more details on these and other laser success stories, or for a full bibliography of case histories, fundamental mechanism papers, and literature meta-reviews of laser therapy in veterinary medicine, contact the author directly at bstephens@k-laserusa.com.
This Education Series article was underwritten by K-Laser USA of Franklin, Tenn.