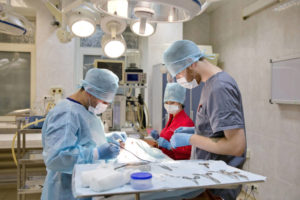 The U.S. Food & Drug Administration (FDA) says it is proposing ways to better protect patients from the malfunctions, injuries, and deaths associated with surgical and implantable staples.
The review comes after the FDA alerted public and health-care professionals to concerns over surgical staplers for internal use and implantable surgical staples. The alert was prompted as the result of the agency's analysis showing that from Jan. 1, 2011 to Mar. 31, 2018, it received more than 41,000 medical device reports pertaining to over 32,000 malfunctions, approximately 9,000 serious injuries, and 366 patient deaths. The most reported problems referred to staple lines opening, malformation of staples, misfiring and difficulty in firing of staples, stapler failure, and misapplied staples.
These devices are commonly used in veterinary settings.
The FDA's new proposals include:
1) Reclassifying surgical staplers for internal use to a higher-risk category, requiring the review and clearance of a premarket notification submission prior to marketing. The staples would be reclassified from Class I (low risk) to Class II (moderate risk) medical devices with special controls. This would require mandatory performance testing of various mechanical features, demonstration of usability and labeling comprehension such as assessing health-care professionals' ability to properly select and use the device according to the labeling, and specific labeling elements supporting the safe use of the device.
2) Issuing guidelines to help manufacturers ensure their labeling provides adequate information for use, including relevant hazards, contraindications, and other information under which practitioners can use the device safely and for its intended purpose. Surgical Staplers and Staples for Internal Use—Labeling Recommendations suggests manufacturers include contraindications for use, such as not using on necrotic tissue, and warnings like avoiding use on large blood vessels. The FDA says by helping manufacturers identify appropriate information to include in their labeling it will ultimately protect patients by aiding health-care professionals better understand the appropriate use and the risks of these devices.
3) Holding a public meeting on May 30 to discuss whether the current pathway for manufacturers to market surgical staplers is appropriate and receiving expert input on the proposed reclassification and draft guidance.