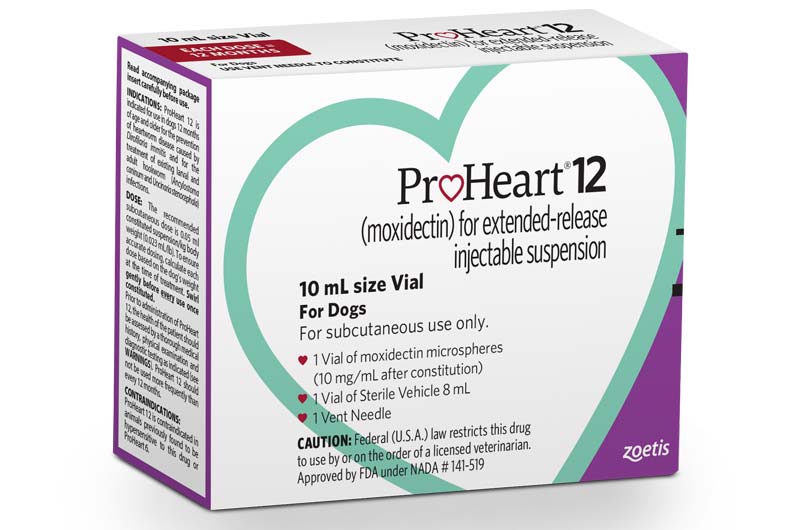 The U.S. Food and Drug Administration's (FDA's) Center for Veterinary Medicine (CVM) has approved ProHeart 12 (moxidectin) extended release injectable suspension for dogs one year and older.
Manufactured by Zoetis, ProHeart 12, which is a macrocyclic lactone antiparasitic compound, prevents against heartworm disease caused by Dirofilaria immitis for 12 months, and is also approved for the treatment of existing larval and adult hookworm infections.
The drug demonstrated 100 percent effectiveness in the one-year prevention of heartworm disease in two laboratory dose confirmation studies and a field study of 297 client-owned dogs that were administered the product.
Additionally, the safety of ProHeart 12 was evaluated in five laboratory studies and in a field study of client-owned dogs. Some adverse reactions were observed, the CVM says, including vomiting, diarrhea, decreased appetite (anorexia), and seizures, with all affected animals achieving a full recovery.
The drug is already approved in an extended release formulation as ProHeart 6 with a six-month duration of action for heartworm disease prevention. This was initially approved in 2001, but was voluntarily removed from the market in 2014 following reports of adverse reactions. The FDA worked with the drug's manufacturer (Fort Dodge Animal Health, at that time) to develop a risk minimization action plan (RiskMAP) that set several conditions in place, including restricted distribution of the drug and revised product labeling with additional safety and risk information. Since introducing these changes, reports of adverse reactions decreased.
This data, along with reviews of reported adverse event data from foreign markets (including Australia, where ProHeart 12 has been approved since 2000) supplemented the pre-approval safety evaluation of ProHeart 12, supporting the FDA's determination of safety.