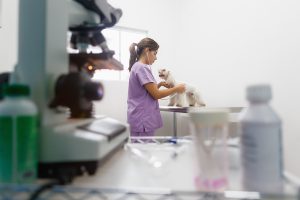 The U.S. Food and Drug Administration (FDA) is working with pharmaceutical company Pfizer to alleviate a shortage of certain injectable opioids used to treat pain in animals.
The move comes after Pfizer restricted distribution of such products to human use only during the ongoing opioid shortage. However, it has changed its approach after being informed veterinarians are unable to get injectable opioids for pain control in their patients. Instead, Pfizer is offering a limited amount of products labeled for human use.
Most opioid pain medications in veterinary medicine are approved for use in humans, but also used in animals. This is called extra-label use.
The FDA's center for veterinary medicine (CVM) met with the company to raise awareness about the animal health community's need for these drugs and discuss how a limited supply of product imported from other countries could be made available in the U.S. veterinary market.
The administration had previously given Pfizer permission to import hydromorphone hydrochloride injection, USP, in 2-mg/ml strength, 1-ml volume ampules to help alleviate the opioid shortage in human medicine. This product is now available in limited quantities for pain management in animals.
In addition to hydromorphone, Pfizer also has made morphine sulfate injection, USP, in vials and ampules available to the U.S. veterinary market.
With access to these drugs, veterinarians will have a well-rounded formulary of products to manage pain in their animal patients, assist in their recovery, and minimize suffering.
Pfizer expects the opioid shortage to end in early 2019 and will continue to keep these products available to the veterinary market in the interim. Veterinarians may purchase them through their usual distribution chains.