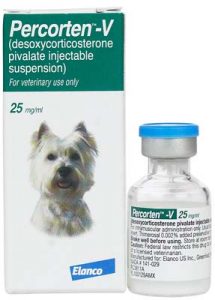 Due to a shortage of Percorten-V, which is approved for use as replacement therapy for mineralocorticoid deficit in dogs with Addison's Disease, the U.S. Food and Drug Administration's Center for Veterinary Medicine is reminding veterinarians that Zycortal Suspension is an alternative treatment option that is not currently in shortage.
Elanco Animal Health, manufacturer of Percorten-V (desoxycorticosterone pivalate injectable suspension), reported a manufacturing issue with the product.
"Elanco is experiencing a delay in production of Percorten-V due to the inability of our contract manufacturing facility to supply product," according to the company's website. "While we work diligently to resolve this delay, there is an interruption of product supply to veterinarians. The technical challenges in the manufacturing process are being actively investigated with a focus on expediting resolution. The timeframe to resume production is dependent on the investigation conclusions and at this point is unknown. Elanco deeply regrets that this production issue is impacting the veterinarians and pets that rely on us to manage this serious disease, and is working persistently to hurry this product back to those who need it."
Zycortal Suspension (desoxycorticosterone pivalate injectable suspension), also approved for use replacement therapies for mineralocorticoid deficit in dogs with primary adrenocortical insufficiency, is made by Dechra Ltd.