Suggested Veterinary Products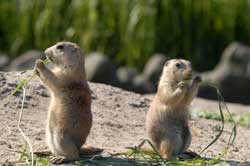 The U.S. Food and Drug Administration on Monday removed its regulation that established restrictions on the capture, transport, sale and distribution of African rodents, prairie dogs and certain other animals within the United States.
The restrictions were lifted because the FDA believes they are no longer necessary to prevent the further introduction, transmission and spread on monkeypox, a zoonotic and potentially fatal disease, in the U.S.
The restrictions originally went into effect in 2003, following the spread of monkeypox to humans through prairie dogs and Gambian giant pouched rats that were sold through the pet specialty channel. The FDA reports 72 human cases, none fatal, occurred in that outbreak.
On June 11, the Centers for Disease Control and Prevention (CDC) and the FDA jointly banned the sale, transportation and distribution of the suspect animals, which also included tree and rope squirrels, dormice, brush-tailed procupines and striped mice.
The CDC also banned all importation of African rodents and other animals that can carry monkeypox into the U.S. That embargo remains in effect.