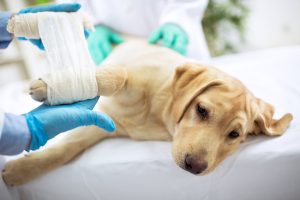 The U.S. Food and Drug Administration (FDA) is launching a new resource guide for veterinarians prescribing opioids for pain management in animals.
The issue has come to the fore due to the opioid crisis and the occurrence of people hurting their pets to gain access to the drugs. The FDA says it is committed to addressing the misuse and abuse of drugs on all fronts, with a significant focus on decreasing exposure to opioids and preventing new addiction by taking steps to encourage more appropriate prescribing, said FDA commissioner Scott Gottlieb, MD, in an official statement.
While any health care provider can take advantage of the Risk Evaluation and Mitigation Strategy program for opioid analgesics, there hasn't been a lot of information tailored specifically to veterinary medicine, he added.
"That's why we have developed a new resource containing information and recommendations specifically for veterinarians who stock and administer opioids," Dr. Gottlieb said. "Today, we're issuing important information for veterinarians to ensure they have additional context regarding the potential for people to misuse the products they are prescribing to their animal patients."
The issue of abuse stems from the lack of opioids specifically approved for use in animals, with only two currently being marketed (buprenorphine for use in cats and butorphanol for use in cats, dogs, and horses). The shortage is causing veterinarians to prescribe products originally approved for use in humans when they determine a need for opioid pain medications for pets.
Among the FDA's recommendations for veterinarians is a reminder about the importance of following all state and federal regulations on prescribing opioids to animals and how to properly safeguard and store the medications to ensure they remain in the legal supply chain. In addition, the FDA is advising veterinarians to follow professional standards set by the American Veterinary Medical Association (AVMA) in prescribing these products to ensure those who are working with these powerful medications understand the risks and their role in combating the problem.
"We're educating pet owners on the safe storage and disposal of opioids; advising veterinarians to develop a safety plan in the event they encounter a situation involving opioid diversion or clients seeking opioids under the guise of treating their pets; and taking steps to help veterinarians spot the signs of opioid abuse," Gottlieb said.
The administration also is recommending veterinarians use alternatives to opioids for pain management when appropriate.
"As medical professionals, veterinarians have an opportunity to partner with the FDA and others to take on this public health crisis," he said. "We encourage them to continue to work with their clients and both local and national organizations, such as their state board of veterinary medicine and AVMA, to join in the fight against this tragic epidemic."