Suggested Veterinary Products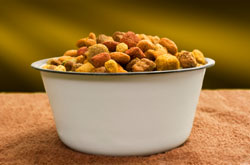 The U.S. Food and Drug Administration plans a May 13 public meeting to collect information about pet-food standards from various stakeholder groups.
These stakeholders include, but are not limited to, the Association of American Feed Control Officials, veterinary medical associations, animal health organizations and pet food manufacturers.
As mandated by the FDA Amendments Act of 2007, the agency is working to develop standards including ingredient standards and definitions, processing standards and updated labeling standards.
The FDA also wants input from these stakeholders as to whether these standards should cover all animal feeds.
The meeting will take place from 8 a.m. to 4: 30 p.m. May 13 at the Holiday Inn in Gaithersburg, Md.
The FDA requests that parties interested in making public comment pre-register for the meeting by sending basic information (name, company or association name, address, phone number, e-mail address, and whether one plans to speak on behalf on an organization or as an individual). Information should be sent to Nanette Milton at nanette.milton@fda.hhs.gov.
In addition, the FDA is accepting written comments on pet food standards (identify comments for Docket No. FDA-2007-N-0442) through June 13, 2008, via www.regulations.gov or mailed to Division of Dockets Management (HFA-305), Food and Drug Administration, 5630 Fishers Lane, Room 1061, Rockville, MD 20852.