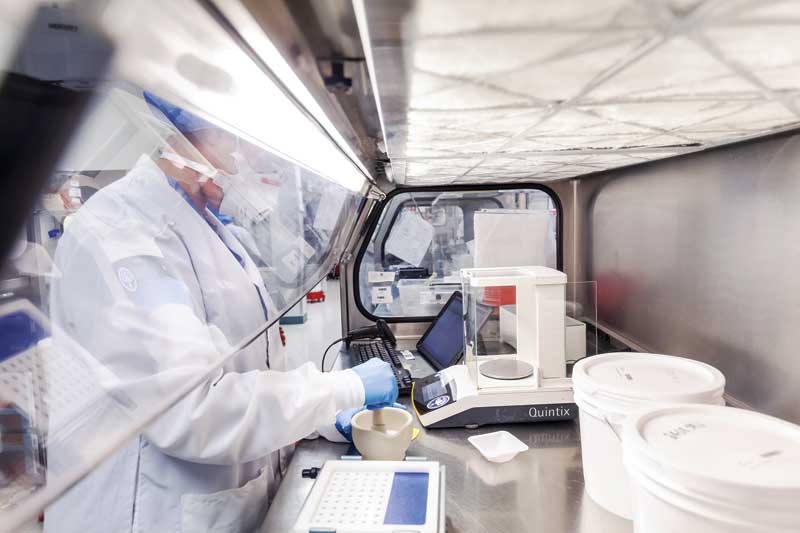 This past summer, the Food and Drug Administration (FDA) issued a new Guidance for Industry (GFI) that will take effect in April 2023, affecting how compounding pharmacies fill veterinary prescriptions. Called GFI #256, the guidance is intended to encourage the use of FDA-approved drugs by veterinary professionals and control which bulk substances are used to create compounded medications.
According to FDA, the new guidance is designed to protect human and animal health by limiting the use of animal drugs compounded from bulk drug substances to when a veterinarian, acting within a valid veterinarian-client-patient relationship, determines there is no medically appropriate human or animal drug that is FDA-approved, conditionally approved, or indexed to treat the animal.
Amber McCoig, DVM, senior veterinary medical officer for the Office of the Director at the FDA, explains the guidelines were designed to make sure veterinarians get the compounded drugs they need.
"All drugs that are compounded from bulk drug substances are unapproved drugs, and that has always been the case," says Dr. McCoig. "Through this guidance, we will be able to allow enforcement discretion. We think veterinarians need those unapproved drugs, yet the drugs don't go through the FDA's premarket approval process. We don't know their safety and efficacy. We also don't have post-market information where we get adverse events reports, and we don't know anything about the manufacturing of these products. So, this is our way of helping to make these drugs available when they are needed, but still trying to have people use the approved products when possible because that's the safest way," she says.
In the past, FDA has generally refrained from taking enforcement action against animal drugs compounded from bulk drug substances under certain circumstances when no other medically appropriate treatment options exist. GFI #256 continues this practice while balancing the FDA's concerns about the risks of animal drugs compounded from bulk drug substances that have not gone through FDA premarket review. This guidance is intended to provide additional information and clarify FDA's current thinking about animal drug compounding from bulk drug substances.
"This is not really a change in our policy, but it is showing where we intend to apply enforcement discretion," says McCoig. "The FDA hopes that by making this policy available to people, it can help clear up some confusion."
McCoig adds that a lot of veterinarians think compounded medications are just tailored drugs that are specific for the patient and are just as safe. In truth, the bulk substances used to create the compounded drug have not undergone the kind of scrutiny approved drugs undergo from the FDA.
"I'm hoping coming out with this policy will help veterinarians to see that although we recognize there is a need—there are not enough drugs out there specifically approved for animals—they will also see that approved products are going to be the most safe and effective," says McCoig.
The lists
This new guidance is intended for veterinarians, state-licensed pharmacies, and federal facilities interested in compounding animal drugs from bulk drug substances for use in non-food-producing animals, as antidotes in food-producing animals, or as sedatives or anesthetics in free-ranging wildlife under limited circumstances, when no other medically appropriate treatment options exist, according to the FDA.
As part of this guidance, the FDA is maintaining the List of Bulk Drug Substances for Compounding Office Stock Drugs for Use in Nonfood-Producing Animals, as well as a List of Bulk Drug Substances for Compounding Office Stock Drugs for Use in Food-Producing Animals or Free-Ranging Wildlife.
Bulk drug substances on these lists can be used to compound drug preparations for office stock for specific species and disease indications without concern of the FDA taking enforcement action against a state-licensed pharmacy or state-licensed veterinarian.
The FDA intends to include a bulk drug substance on either of the lists under three different circumstances: when there is no marketed FDA-approved, conditionally approved, or indexed animal drug that can be used as labeled to treat the condition; when there is no marketed FDA-approved, conditionally approved, or indexed animal or human drug with the same active ingredients that could be used in an extra-label manner to treat the condition; and when the FDA has not identified a significant safety concern specific to use of the bulk drug substance in animals.
For bulk drug substances used to compound drugs intended as office stock for nonfood-producing animals, in addition to these stipulations, drugs can be included on the list when urgent treatment with the compounded drug is necessary to avoid animal suffering or death, or to protect public safety.
Substances can be nominated for either list by submitting information to the FDA. Drugs under review will not be targeted for FDA enforcement while they are pending approval. The names of drugs currently on both lists as well as those under review are available on the FDA website under the GFI #256 pages.
Compliance
Compounding pharmacies will have the most responsibility for adhering to the guidelines, according to Marcy Bliss, CEO of Wedgewood Pharmacy in Scottsdale, Ariz. "We believe the burden here is going to be on the pharmacies to make sure veterinarians are complying with the various lists," she says.
Right now, veterinarians order medications for office use when they think their population of patients need certain drugs to begin treatment immediately, according to Bliss. "These lists could change a veterinarian's ability to order in advance of writing a prescription for an individual patient," she says.
"Right now, the FDA is accepting nominations for these lists, and we've been very active and working very hard to provide nominations."
Bliss is encouraged by the speed in which the FDA is handling the listed drugs, and she is hopeful when implementation of the guidance starts in April, a lot of the substances currently under review will have gone through the entire process.
As far as how veterinarians will be affected by the new guidance, Bliss is optimistic that it will not make prescribing compounded medications more difficult.
"There won't be drastic changes in the availability of office use medications," she says. "If something is on a 'not-listed 'list, it just means a veterinarian will have to write a patient specific prescription for those items and some kind of clinical rationale for that prescription."
The greatest compliance burden will fall on the compounding pharmacies, according to Bliss.
"The pharmacies that are doing compounding are going to have to ensure compliance with those guidelines," she says. "Our understanding is that the FDA will be focused on pharmacy compliance, as well as the pharmacies ensuring that the veterinarians are compliant."
Audrey Pavia is an award-winning freelance writer who specializes in pet and veterinary topics. She lives in Southern California with a menagerie of dogs, cats, and horses.