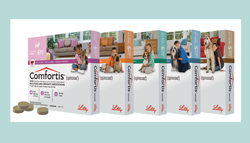 The U.S. Food and Drug Administration and Elanco Animal Health are advising veterinarians that dogs receiving extra-label doses of ivermectin should not receive concurrent treatment with Comfortis (spinosad), a monthly chewable tablet used for the prevention and treatment of flea infestation.
The FDA Center for Veterinary Medicine recently received reports of adverse reactions which are consistent with ivermectin toxicity.
Many veterinarians use high extra-label doses of ivermectin to treat dogs with non-responsive demodectic mange and other conditions.
Elanco Animal Health is a division of Indianapolis-based Eli Lilly and Co.
Click here for the "Lilly Companion Animal Health Technical Bulletin: Spinosad and the Extra-Label Use of High Dose Ivermectin for the Treatment of Generalized Demodicosis in Dogs."