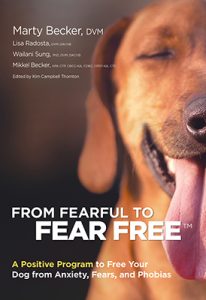 Even though a good dog owner is attentive to their companion's physical needs—feeding, bathing, and playtime—they sometimes overlook a dog's emotional needs because it can be hard to identify the triggers of a dog's fear, anxiety, and stress (FAS), according to Marty Becker, DVM, founder of the Fear Free Pets program, who has released a new book aimed at teaching the program's principles to owners.
In From Fearful to Fear Free: A Positive Program to Free Your Dog from Anxiety, Fears, and Phobias, Dr. Becker; Lisa Radosta, DVM, DACVB; Wailani Sung, Ph.D., DVM, DACVB; and Mikkel Becker explain how FAS is the underlying cause of many concerning behaviors such as excessive barking, aggression, destructive behaviors, and house-soiling. Further, the book discusses how FAS is the source for deterioration of the human-animal bond, and can make a trip to the veterinarian, pet groomer, or boarding facility miserable for pet and owner alike. If misinterpreted, overlooked, or left untreated, these negative experiences can lead to devastating consequences and permanent damage.
Dr. Becker and his colleagues address FAS and share their own experiences, and include techniques and resources to implement Dr. Becker's Fear-Free program (fearfreepets.com and fearfreehappyhomes.com).
The book teaches owners:
The most effective prescription sedatives for keeping dogs calm and happy during thunderstorms, fireworks, and other stressful events.
The positive steps to keep pets occupied, calm, and content while alone.
Simple, practical tactics for helping dogs learn to love going to the veterinarian's office.
How to easily groom dogs and administer medication.
Tips for taming the chaos when guests arrive or when a dog encounters other dogs and people on walks.
Ways to tackle some of the common behavior issues often rooted in FAS, while also strengthening communication and bonding.