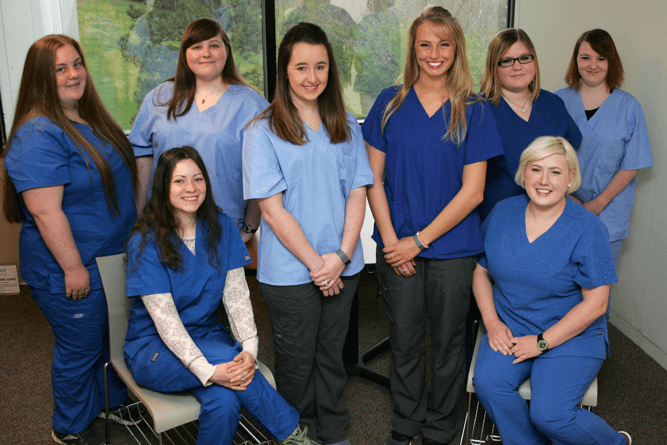 According to the school, the common theme among students in the veterinary technology program at Mountwest Community & Technical College is "passion." With its program requirements, Amanda Clark, instructor and program coordinator at Mountwest, says passion, paired with hard work, was nearly a necessity for the 9 students to walk across stage last week as the first graduating class from the newly accredited Mountwest vet tech program.
"This program isn't for everyone; some students have the passion but can't handle the sights and smells, or are unable to aid inhumane euthanasia," Clark, who is also a registered veterinary technician, said. "I think passion is what drives students to apply and keeps them going, but they also have to have a high work ethic, be able to problem solve and work with a team."
Prior to admission, vet tech applicants must complete 120 hours of documented voluntary/work experience in a veterinary hospital or animal clinic with a minimum of 100 hours in clinic or hospital and 20 hours in an animal shelter. Upon admission, students complete 74 credit hours of coursework that covers topics like biology, chemistry, anatomy and physiology, parasitology, nutrition, animal disease, anesthesia, pharmacology along with animal care, restraint and handling.
Even though the students received their Associate of Applied Science degrees, the vet tech graduates have much work left to complete. This summer they have to fulfill a 200-hour externship after which they will sit for the national veterinary technology exam, and upon passing, be able to call themselves registered veterinary technicians.
Sarena Johnson of Ona, W. Va, chose Mountwest because of the proximity to home. She said she's always loved working with animals.
"The program is a lot of fun because of all the hands-on work," Johnson said. "This is more than a career; it's a passion and a hobby."
Another graduate, Meagan Fry of Huntington, W. Va, was drawn to Mountwest because of the small class sizes. She said it feels like she's more than just a number. She said she's always owned animals, and when they became sick, she was very curious about their illnesses.
"On the day I was accepted to the vet tech program at Mountwest, my cat of 14 years passed away, which I strangely felt like was a good sign that I was on the right path," Fry said. "I've learned so much through all of the one-on-one help from instructors, which is invaluable in this field."
More than half of the graduates have already secured positions in the community. Brandon Dudding, registered veterinary technician and instructor at Mountwest, said one of the things he's most excited about with this new program is the positive effects it will have in the local community.
"This program will offer local veterinary clinics an educated and trained workforce, diversifying hiring options," said Dudding. "Veterinary medicine will improve across our community as a result."
Dr. Chad Brown, assistant professor and veterinarian, adds, "What really differentiates us from other similar programs is the extensive real-world experience of our entire vet tech faculty. This enables the students to obtain a progressive education that can make an immediate impact on their future workplace."