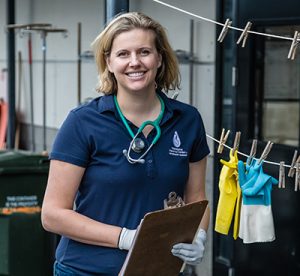 You don't hear the title conservation medicine veterinarian often. What inspired you to become one, and what did your educational/post-grad path look like? Is this sector lacking in veterinary professionals?
My father was an environmentalist, and some of my earliest memories with him were watching David Attenborough and asking questions about nature. I credit my father with inspiring me to love science, wildlife and the environment.
My career path trajectory really began after graduating from veterinary school at the Virginia-Maryland Regional College of Veterinary Medicine. I completed an internship in aquatic medicine with the National Marine Mammal Foundation and SeaWorld San Diego, both of which I credit for giving me my foundation in marine mammal medicine. The aquatic medicine sector is a highly specialized one, but one in which there are many nontraditional veterinary careers—researchers, pathologists, and consulting specialists, to name a few.
What does it mean to be the first veterinarian to become a TED Fellow? What are your responsibilities and obligations?
It's absolutely a dream come true, and I'm honored to be selected in a field with so many talented and qualified individuals. I'm currently preparing my talk for TED2018, which will involve the intersection of marine mammal health, ocean health, and human health. I feel responsible for spreading what marine mammals speak to—the plight of an ocean in trouble—to a more diverse audience.
What inspired you to look for new therapeutic techniques for treating West Coast marine mammals? What new treatments have you helped develop to improve marine mammal health? What would you say is the general health status of coastal marine mammals in 2018?
What's happening to these marine mammals I see every day at work is connected to the greater health of the ocean, the planet and all of us. Last year, I authored a study with colleagues on how a thermodynamic gel used in human medicine can keep an antibiotic in place for sea lions suffering from eye ulcers. Administering the gel can help sea lions heal without having to treat them as frequently, which is important because they don't like to sit still for daily eye drops. It has really revolutionized how we treat eye ulcers in marine mammals. Marine mammal health is changing, and marine mammals face continued risks along our coast, particularly from human impacts like ocean trash, overfishing, and a changing climate.
What is the Marine Mammal Health Map, and what will it mean for overall animal health?
Back in 2014, The Marine Mammal Commission created the Marine Mammal Health Map to highlight and understand the connections between oceanography, the ocean's ecosystem, and marine mammal health. The project's mission is to bring together measures of ocean and marine mammal health using a web-based data management platform to help streamline data and better understand threats and changing trends. It was created out of a need for a more nationally centralized, real-time system for reporting data on marine mammal health.
What advice would you give to veterinarians looking for a unique career change, young veterinarians looking for a nontraditional path, or new grads/vet students looking for a different way to practice veterinary medicine?
The best piece of advice I have is to be open to where your life might lead. While each of my career steps made sense following the previous experience, I would never have envisioned the journey. There are many non-traditional opportunities for veterinarians and many careers that intersect with marine mammals and wildlife in unexpected ways.
How veterinary professionals can learn more and get involved
The Marine Mammal Center offers a variety of externships and internships for veterinarians to gain valuable hands-on experience providing rehabilitative care for our sick and injured marine mammal patients. The center is one of the few marine mammal rescue organizations with a well-established teaching and research hospital. For international veterinarians, the center also offers a veterinary in residence program that provides the tools and experiences for participants to develop marine conservation efforts in their home countries. To learn more about both programs, visit the center's website at MarineMammalCenter.org.