Suggested Veterinary Products
Mouse, a spindly, dark brown Lippizan colt cloned from a Florida resident's stallion, was born early May at the University of Florida College of Veterinary Medicine. By mid June, Mouse was reportedly a "happy, healthy, bucking foal enjoying the good life at his home in Cocoa, Fla."
The journey began at Texas A&M University College of Veterinary Medicine & Biomedical Sciences where researchers used oocytes from a live mare to undergo what is called somatic cell nuclear transfer. The successful delivery of Mouse makes this the first clone of a horse using a live mare's eggs cells, according to Texas A&M.
Kit Knotts, Mouse's owner, had been looking for a horse that had the same qualities as Marc, her 30-year-old Dressage champion, but when nothing turned up, she spoke to equine reproduction specialist Katrin Hinrichs, DVM, Ph.D., a professor in the Department of Veterinary Physiology & Pharmacology.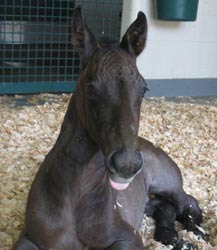 Photo courtesy of Texas A&M University College of Veterinary Medicine & Biomedical Sciences on behalf of Kit Knotts, owner of Mouse.
"We have worked on this clone for about two years," said Dr. Hinrichs, whose lab is noted for achieving the first cloned foal in North America and has since produced twelve more. "This is actually our first foal produced using oocytes, or egg cells, from live mares. We recovered the oocytes from our herd of research mares using the same method used to recover eggs from women for in vitro fertilization. We used the oocytes for the cloning process, which made it difficult as we had very few to work with at any one time. During the cloning process, we tested a new technique that has been reported in mice to decrease birthing problems. Mrs. Knotts has been very supportive of our efforts to clone her horse, and has even named the foal 'Mouse' in honor of the research that produced him."
First a biopsy of skin cells was taken from Marc. Through the cloning process using oocytes recovered from a live mare, viable embryos were developed and sent to Hartman Equine Reproduction center, an embryo transfer facility in North Texas, for transfer into surrogate mares. Minnie, the mare carrying Mouse, stayed in North Texas for about 200 days, then was sent to Florida where Knotts lives.
"When we believed the mare was close to foaling, the reproduction, medicine and surgical clinicians communicated regularly," said Rob MacKay, BVSc, Ph.D., a large animal medicine specialist and professor at the University of Florida. "Taking into consideration the special needs previously cloned foals have had at the time of birth, a strategic plan was formed early that encompassed all possible supportive therapies and intervention needs that may be required at the time of foaling. This included addressing any unexpected foaling complications for the foal and/or the mare."
Mouse's birth, although early, proceeded without incident. However, the university noted that as time progressed, several complications arose, some similar to those seen in premature foals. With supportive care, Mouse improved.
Knotts said she is pleased with the outcome. In fact, the University of Florida reported that another surrogate mare is pregnant with Marc's next cloned twin and is expected to journey from Texas A&M to Florida in mid-August.